Quick Take: Adventure Time, "The Creeps"
"I blinked my balls... my eyeballs." - Lumpy Space Princess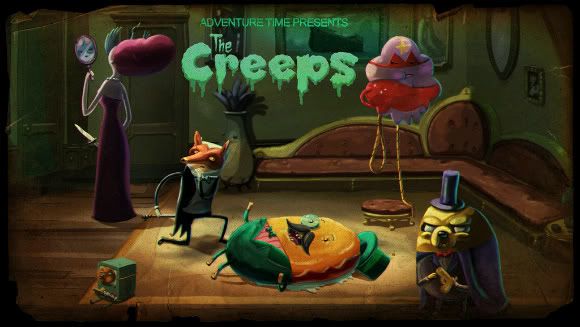 Review: Adventure Time, "The Creeps"
(S0312) Adventure Time kicks off its first Halloween special with a visual homage to all things gothic. The opening scenes feel like they were stolen straight off the cover of the novel, A Series of Unfortunate Events. This week's Adventure Time continues to display the aesthetic genius of Pendleton Ward and crew. It also sports some of the most gut-twisting laugh moments for this season so far.
Finn and Jake are invited by an unknown guest to a haunted castle. When they arrive, they find Lumpy Space Princess (LSP,) Beemo, Princess Bubblegum, and Cinnamon Bun were also invited. They soon find a note on Cinnamon Bun after he is rejected by LSP. Such a shame, as LSP would probably be the perfect filling for his bun. A ghost haunts the castle and has apparently possessed one or our gang of candyland misfits. If they don't find out who it is fast....they could all wind up dead.
This episode's structure is a bit different than the rest and feels more like a parody of a Nancy Drew novel. This week's story relies more on parodying the red herring aspects of mystery stories than about using Chekhov's gun.
For this episode, it is better not to focus too much on the story and instead focus on the art. The noodle-ness of Finn and Jake's morphing body are still intact; much of the the show's bright colors also remain displayed. It's extremely odd to see Lovecraftian horror brought to life with such a bright palette of hues; it's even more odd to see how it all still works for the series. Adventure Time's character models support circular heads. This simplicity makes the characters' dot-eyes and mouths more expressive. This expressiveness, in turn, is in sharp contrast with their Victorian outfits. It's a unique character aesthetic that works for the setting of the episode. Again, it feels like a return of "A Series of Unfortunate Events" or "The Grim Adventures of Billy and Mandy." There are probably tons of horror, mystery and macabre references in this episode that my puny cranium cannot pick out. Regardless, this episode's juxtaposition of bright colors set against a Victorian setting really makes it standout among other Halloween episodes.
The humor of this episode really stands out as well. LSP using the bathroom makes her squall for dear life. I'm surprised censors allowed LSP to say some of the things she said this episode. Humor is also found in the "mystery names" each character is given like Quiet Bottom for Princess Bubblegum.
Let's hope next week's Halloween episode is even more unique when the team faces off against zombies.