Quick Take: Dexter, "Nebraska"
"Because you don't turn the other cheek, you slice it." - Brian Moser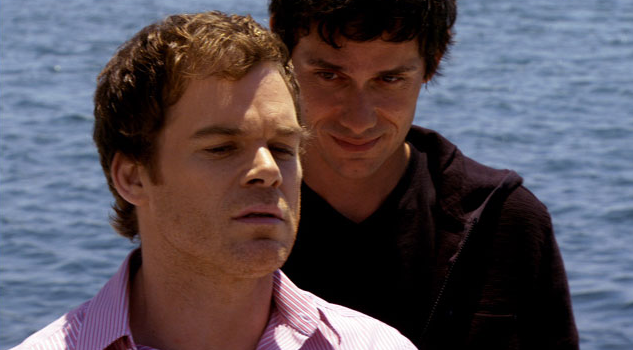 Review: Dexter, "Nebraska"
(S0607) In a desperate bid to remind us all of simpler times, when our devotion to Dexter was pure and unadulterated, the show has brought back Dex's sinister older brother. "Hey, look, remember when you used to unconditionally love us?" the move screamed. "If you wanted to do that again, you know, that'd be cool." Of course, the idea of Brian taking on a role similar to Harry's was hella intriguing, but for being the big return of the Ice Truck Killer, "Nebraska" was sadly pretty boring. You know it's a bad sign when you steal screentime away from the Snoozeday Killers in favor of Brian Moser, and the result is still ennui. Season Six, you're really starting to worry me.
Brian, who appeared at the end of Episode Six when Dexter killed Nick, is clearly set up as the anti-Brother Sam. He harps on and on about how there's no light in his little brother; in fact, he postulates that Dexter gets a secret, sick thrill out of seeing the light go out of his victims' eyes. It doesn't actually matter whether they're guilty or innocent. Harry's code is irrelevant. Give in to yo' bad self, he urges Dexter.
In a way, Dexter does. When Deb tells him that Trinity has struck again, killing members of his own family this time, Dexter immediately knows the real culprit: Trinity's son Jonah, who's weirdly the only survivor of this killing spree. So, playing the whole "Brother Sam is dead and oh God, a reminder of Rita" card, he tells Deb he's taking some time off. Time off does not turn out to be the day Deb expected but a four-day roadtrip to Nebraska to confront Jonah. And guys, it is classic. Here, Episode Seven perfectly captures the urge we all get on occasion to steal a gun from a floozy, possibly underage cashier girl and shoot out billboards with your ghost brother while "Search and Destroy" blares from your car. Who said Dexter isn't relatable?
Brian and Dexter track down Jonah at the local hardware store. Just to make it clear that he's Trinity's kid, he greets Dex with a "hello, Dexter Morgan." See, he and his (now deceased) mom and sister had figured out who his true identity, but didn't say anything since he tried to help them. But, anyway, the murders. Jonah says he came home to find his dad pushing his mom down the stairs. He then whacked her with a hockey stick. Once Jonah tried to intervene, Trinity fled, but it was already too late for mom and his sister, whom he found in the bathtub, just like Rita. Even though Dexter knows this is bullshit, he attempts to prove Jonah's guilt before he strikes. He finds some pretty damning blood evidence in the house, but, surprise, it's not as simple as that. Turns out Jonah didn't kill his sister -- she killed herself due to the torment psycho mom apparently put the kids through. In a fit of rage, he went after his mom with the hockey stick, accidentally killing her. Jonah begs Dexter to kill him because he can't take the guilt, but, much to Brian's chagrin, Dexter lets him go. He tells the kid to forgive himself and then dramatically runs over Ghost Brian on his way home.
Oh, right, and he killed a pot-growing hillbilly in the middle of all that. To add tension or something.
Back at Miami Metro, Deb is freaking out over the Doomsday Killers case. Mainly because LaGuerta showed up for two minutes, was a gigantic bitch as usual, and essentially told her to find the perps or else. She's panicking, especially since Dexter won't pick up the phone and explain where he went, but calms down when she gets an oddly sweet moment of closure from Quinn (who knew?) and a break in the case. That girl Travis let go obviously shows up at the office, revealing that she was held captive by two men and one referred to the other as "Professor." Masuka's computer whiz intern/Jamie's love interest creates a program to cross-reference all of Professor Gellar's former male students with a proximity to Miami, narrowing the scope down to the hundreds. The camera lingers ominously on Travis's mug.
Speaking of Travis, he decides he's officially done with the Professor and starts hanging out with his sister more. Sigh. Is it too much to hope that inevitable Professor-Gellar-was-dead-the-whole-time twist won't come at all? Because that'd be nice. At this point, Dexter could use an actual shock to the senses. Surprise visits from Brian just aren't cutting it.