Quick Take: Modern Family, "Fears"
The Dunphy clan confronts their fears, including buried treasure, roller coasters, and driving tests. But don't worry about that, it's funny.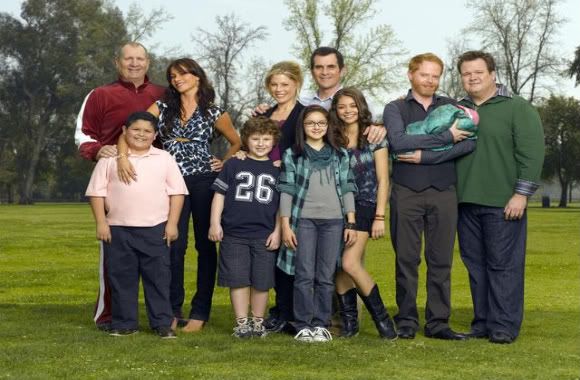 Review: Modern Family, "Fears"
(S0116) I was trying to figure out the reason why Modern Family is, even at its relatively young age, one of the better scripted TV comedies ever produced. At its core the premise is very simple: three families that are related, one more or less "traditional," one gay couple with an adopted daughter, and a divorced dad who remarried a woman with a son. And it's single camera.
That's it. That's the show. I realized that it's so good because it does the "basic" comedy things right week after week: the writing is sharp, the acting and casting are spot on, and the storylines are good enough to carry you from joke to joke. And yes, it's typically very funny.
Well, that's an oversimplification of course. They also make expert use of documentary-style filming and montages and lots of other stuff… it's just a great show, okay?
Phil (Ty Burrell) bonding with Luke (Nolan Gould) over the mysterious "collection" under the house (which may or may not turn out to be awesome, but speculating over what it is certainly is) is particularly effective. Cam and Mitch (Jesse Tyler Ferguson) having the pediatrician ("a very nice Asian lady") over for brunch was a little flatter, but still solid.
Other thoughts on "Fears":
Her first word was every gay father's worst nightmare… mommy!" – Cam (Eric Stonestreet)
"Just get your coat." - Jay (Ed O'Neil) gruffly shutting down his step son's attempt to wax philosophical about the fishing life. Classic.
"Maybe we're not providing her with the feminine energy she needs." - Cam, right before breaking out into tears. Snort worthy.
Haley (Sarah Hyland) letting the car roll down the street with the driving instructor still in it. Great physical comedy right there.
Video: Modern Family, "Fears"
Trailing five episodes available on the Hulu…
Recap: Modern Family, "Fears"
Phil tries to conquer his fear of the dark.
From Around the Web: Modern Family, "Fears"
TV with Alan Stepinwall: Manny, meanwhile, is such an effective, unique character that he works in any combination, including with his mom and stepdad. That he has his own specific fishing outfit (with cap and cable-knit sweater) feels very Manny, as does Gloria assuring him that "your salmon is legendary.
TV Squad: In 16 episodes, most of which were fantastic, this was the first one to choke out a genuine emotional response from me. Phil's closing monologue was touching, and touched on another fear that all parents face: the fear of your children growing up too fast.