Quick Take: Suits: "Errors and Omissions"
"It's pee-in-a-cup-time." – Louis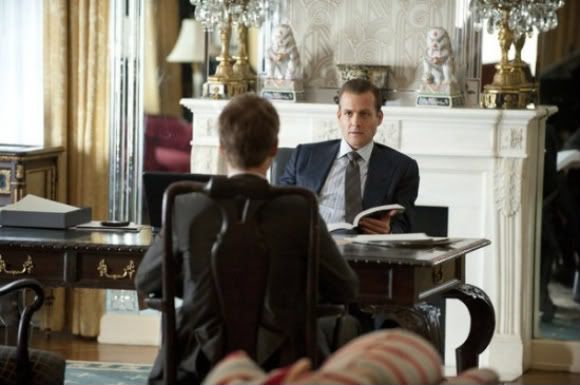 Review: Suits: "Errors and Omissions"
(S0102) In last week's pilot episode, we met Harvey-the-Manslut and his gangly protégé, Mike-the-Pothead. This week, the boys' vices get them into trouble with their respective higher powers. Creepy Louis claims that Mike failed his drug test and pressures him into getting high with a youthful prospective client in hopes of wooing him. Louis admits that would do it himself, but he "isn't cool" and the twenty-something internet mogul won't give him the time of day. It's the most honest thing that comes out of Creepy Louis' mouth for the duration of this episode.
"Errors and Omissions" builds on what we already know from last week's pilot: Harvey isn't as much of a dick as he wants us to think he is and Mike might have memorized a few textbooks, but he still doesn't know how to do paperwork. Mike's inability to file documents was amusing the past two weeks, but I hope the writers find other ways of explaining legal terms and practices to the audience. Are you telling me he can't just look up how to file a subpoena or a patent? Maybe he can't. I don't know. I don't work in a law office. But the whole Mike-following-people-around-like-a-puppy whenever Harvey tells him to do something has made an appearance in two out of two episodes and it needs to stop.
I really hope that Suits doesn't end up being a less-clever White Collar. Wardrobe aside, the similarities between Mike Ross and Neal Caffrey are becoming more apparent. They both find themselves working in environments that are alien to them, both dabble in illegal activities, and both get all sad and pouty when they do something that make their bromantic counterparts flick them on the nose.
Harvey is appropriately disappointed when he finds out that Mike did the puff-puff-pass with Louis' prospective client. He sends his paranoid, hug-happy, munchies-stricken associate home, and Mike is more upset about Harvey's lost trust than his potentially lost job. I would have liked to see Grandma telling Mike what a moron he is here, but she is woefully absent from this episode...
...as is Gina Torres, who only appears for maybe ten minutes at the mid-episode mark to congratulate Reluctant-Stoner-Mike on recruiting his first client, the internet mogul. In only two episodes, Suits has introduced a strong roster of sassy female characters: Rachel-the-Paralegal-who-is-Smarter-than-You, Donna-the-Assistant-who-Doesn't-Care-that-you-Have-an-Appointment, and even Grandma. So far, all we really know about Torres' Jessica Pearson is that she's Harvey's boss and she's immune to his flirting. Oh, and she paid for him to go to Harvard, for some reason. That's great and all, but I'd like to see more lawyer-action. Or any action, really. Gina Torres is such a pleasure to watch in the tough-girl roles, and it will be such a waste of talent if Jessica Pearson only shows up to hand out gold stars and threaten to take away promotions. Let's get her out from behind her desk!
The real highlight to Mike's storyline, however, is Rick Hoffman, who brings the skeevy goodness as Louis Litt: that more experienced co-worker who was passed over in favor of Harvey when Gina Torres was handing out promotions last week. He really is a bully, like Harvey says, manipulating his underlings through intimidation, blackmail, and flat-out lying. I hate him, and I love every minute that he's on my screen. He's like the Dr. Evil of Pearson-Hartman: dangerous, but awkward. "Are you my pony, Mike?"
Yeah, he said that. Louis makes my skin crawl. I felt like I needed a shower after that whole slimy scene.
While Louis is creeping on Mike, Harvey is getting his ass handed to him in court when a judge with a vendetta makes the ruling personal. Even this early in the series, it's jarring to see suave Prince Harvey thrust into a situation that he can't control. Is that sweat on your well-moisturized brow, Mr. Specter?
The twist in this week's episode is right there in the title.
"Errors and Omissions" didn't blow me away, but then, neither did the pilot. Suits is proving itself to be an enjoyable weekly romp in cannabis scented sheets, but with no overarching plot for the season established yet, I'm not feeling the same immediacy that Suits' network siblings provide.