Quick Take: 1000 Ways to Die, "Death, The New Black"
"The best way to deal with a jabroni: sit back and let him screw his own pooch." - Narrator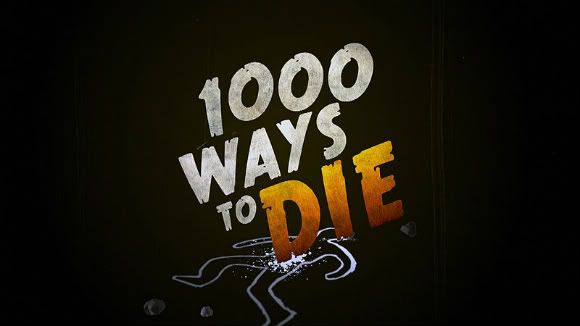 Review: 1000 Ways to Die, "Death, The New Black"
(S0602) I'm not very easily offended. I don't often get bent out of shape over incedents of sexism or homophobia or racism or religious intolerance. That isn't to say that I condone all of these "isms," it's just that I don't let them affect me personally.
The one thing that does offend me, however, is when something exists for virtually no other reason than to offend. Offensive for offensive's sake, if you will. (This could be the reason why a lot of the jokes in Family Guy just don't do it for me). These things typically have no redeeming value other than to get a rise out of people and Spike TV's 1000 Ways to Die is a great example of just this type of product.
1000 Ways to Die is a show about, you guessed it, people dying. Each episode contains a half-dozen or so stories that feature people expiring in bizarre and unbelievable ways. The death part doesn't bother me; the thing that pisses me off about this show is that it tries to turn these deaths into laughs. Now, don't get me wrong, there is a way that you can make death funny. It's just that 1000 Ways to Die hasn't seemed to figure that way out.
The most annoying thing about the show is the way the narrator tries to paint the "victim" of each story in a negative light, as if being a crappy person is reason enough to deserve to die. It's as if laughing at the dead isn't offensive enough -- they have to compound it by disparaging them first. For example, in last night's episode a farmer dies from eating a poisonous grasshopper, but it's funny and okay to laugh because the farmer was growing... wait for it ...POT! Those darn druggies, won't they ever learn? Even more egregious is a story about a woman who dies in a sauna during a sorority hazing ritual. It is acceptable to make fun of her early demise because she was a spoiled, rich brat.
Other stories include a pimp who is killed by a piece of a his own jewelery, an evil football coach who gets kicked in the nuts, a guido who dies in an inflatible raft explosion, and a peeping tom who is impaled by a falling piece of construction debris. All them are lame, none of them are funny. There is really no reason for this show to be on the air aside from giving middle school-aged boys something to giggle at during sleep-overs. Let's be honest, that's the target demo for 1000 Ways to Die, right? Who else would enjoy something like this?
To all you 12-year old boys out there, I have some advice: turn off 1000 Ways to Die, fire up your computer and search for Faces of Death if you want something to nervously laugh at with your buddies.