After a long wait, Bad Robot's new genre drama Alcatraz finally debuted Monday night on Fox to 10 million viewers, earning a 3.3 rating among adults 18-49. Since then Fox has been actively promoting that it actually got 16 million viewers (with Live+1 numbers and OnDemand implied additions) and no buts about it, that's a healthy premiere.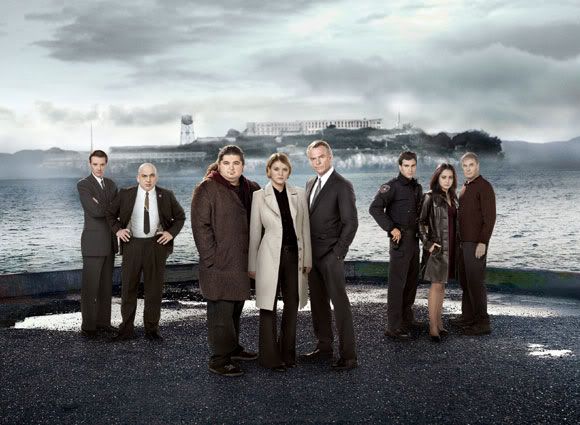 As a TV writer, I've had the fascinating opportunity to watch three separate edits of the first hour of Alcatraz dating back to July 2011. Now, the majority of viewers don't care a bit about how a show unspools; they just want to see the show the creators intended the night it debuts and then they vote with their remote. As a TV junkie and student of the art of television writing, getting to see how a big budget, name-backed drama develops via the editing room is like hitting the boob tube jackpot. Each subsequent edit has provided a treasure trove of creative clarity, character development, and premise tweaking that shines a light on the organic nature of TV series creation.
Since Alcatraz got picked up to series last May, it's had a showrunner swap out (Lost's Liz Sarnoff stepped down for Jennifer Johnson and Daniel Pyne), a production hiatus for reshoots and retooling, and then its midseason scheduling. While the knee-jerk reaction to a shutdown usually incites rumors by trades and even audience members about a troubled production, it's more often the truth lately that networks and studios are seeing the wisdom of pulling back on the breakneck speed of production and writing to remedy and tweak problems before a high-concept show really runs off the rails. A relatively painless pause in production can mean all the difference in smoothing out clunky arcs and flat stories that might alienate new audiences and open the window for likely cancellation with millions down the drain.
In Alcatraz's case, the show has never been clunky but earlier iterations did have some flat characters and tenuous connections for Detective Rebecca Madsen (Sarah Jones) and her new, sidekick – the nerdy/smart Alcatraz expert Dr. Diego Soto (Jorge Garcia) - to navigate through. Getting into the details, here are some of the best changes the showrunners made for the series premiere (spoilers ahead!):
1) Lucy Banerjee is given a much better function in the show – In two previous cuts, Parminder Nagra's Lucy was relegated to Emerson Hauser's (Sam Neill) equally enigmatic and tight-lipped assistant. She helps Emerson semi-stalk Rebecca which is revealed a little differently in the Rock secret basement. Now Lucy functions as a first window into Emerson's gruff demeanor as she quietly defends her partner's clipped modus operandi to Rebecca and Doc as the trio ventures outside of their lair. Lucy isn't just the chick surfing the database anymore, which was a waste of Parminder's talents. Of course, Lucy gets shot and lands in a coma which technically is a real waste of Nagra's talents, but the end of premiere reveal that Lucy was psychiatrist Dr. Lucille Sengupta on Alcatraz and doesn't look a day older now, is a worthy twist that returns Lucy to the ranks as a solid player in the flashbacks. The coma also doesn't blow out the audience getting to know the character as she withers away horizontal in a hospital bed.
2) Rebecca meets her grandfather in the now – In the previous edits, we never see Rebecca follow a perp across roofs or watch as her partner gets shot and then falls over the edge to his death. It's a great addition to her backstory and future motivations to see Rebecca lock eyes with the man who changed her world forever so she can then find out via Hauer's wall of missing Alcatraz inmate mug shots that that roof dude is her grandfather. All in one fell swoop, Rebecca learns her grandfather wasn't an Alcatraz guard like she'd been told, but an inmate and he's also out doing harm – very personal harm – to the residents of San Francisco now. That revelation is a real plus to upping the stakes and connecting our lead character to the conundrum of today.
3) Jack Sylvane gets an injection – In the premiere episode, we get a very pointed scene where Alcatraz inmate Sylvane is forcibly made to give what seems to be one in a long line of blood transfusions (no wonder he looks so peaked in that jail cell). As the doctor grins eerily and ignores Jack's protests, the audience is given a small clue that maybe the 302 prisoners that go poof in 1963 aren't just a random bunch but a specific bunch. Maybe they were hand-selected to participate in this time travel scheme based on their blood type, their genetics, or some other commonality we'll have to discover as the series unfolds. In previous edits, that scene didn't exist and the addition really helps the audience get more invested in Jack, the overall mystery and the flashback scenes as a source of clues and foreshadowing.