Quick Take: 30 Rock, "Klaus and Greta"
James Franco in love with Japanese body pillows = funny.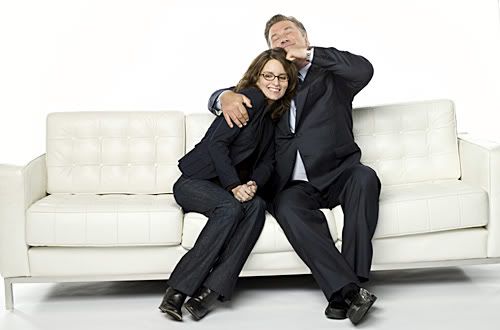 Review: 30 Rock, "Klaus and Greta"
(S0409) It's such a pleasure to watch this cast, even when there's not much going on. Exquisite case of great cast with off-the-charts talent, chemistry for days, and typically strong writing. On the latter bit, a plot point where it's mentioned that a fight scene in a Jamba Juice is staged because of a product placement deal with the corporate juicing entity is exactly what makes this show so snarkariffic.
And meanwhile, Jack (Alec Baldwin) staging a contest in which Kenneth the Page and Jonathan (Maulik Pancholi) compete to win the role of helping Jack in a desperate mission to erase a late night drunken phone message is again comic genius, if only to see the goody goody Kenneth (Jack McBryer) and prissy Jonathan (Maulik Pancholy) together. Eventually Jack and Kenneth spend a lot of time together investigating Nancy Donovan's (Julianne Moore) house in search of a voicemail password and secrets regarding her marriage and possible attraction to Jack. Personally, I think that Jack and Nancy's potential relationship is one of the funniest, more romantic, and sexiest things cooking on scripted TV nowadays.
More random thoughts on "Klaus and Greta":
Gotta love that YouSpace is an ongoing gag/reference to the social mediasphere.
Is it just me or is James Franco looking hella pasty?
Nonetheless, Franco in love with Japanese body pillows = funny.
More is more with Tracey Morgan/Jordan. Give us more T Mo !
In case you were wondering, Jonathan and Sanjay from Weeds are one in the same actor.
"All this attention, having ice cold diarrhea from drinking too much Jamba Juice, it's all I ever wanted!" - Jenna Maroney (Jane Krakowski)
I like how Kenneth is still in his NBC page finest down to the flare even when taking part in a B&E.
"Try to look like you just got drilled, you know the deal." - James Franco to Jenna
Alec Baldwin… bringing the amazing comedy gravitas week after week. But… "you are leaving through the darkie door," to Kenneth, wtf?
"Let's do this." - Liz Lemmon (Tina Fey) to Franco… and Franco's Japanese body pillow. It should be said early and often that Fey is the best comedienne on television, bar none, and anchors 30 Rock brilliantly.
Recap: 30 Rock, "Klaus and Greta"
Jenna enters in a fake relationship with James Franco while Jack tries to gain access to a drunken voicemail he left Nancy.
Video: 30 Rock, "Klaus and Greta"
Trailing five episodes available on Hulu, get 'em while they're hot!
From Around the Web: 30 Rock, "Klaus and Greta"
TV Squad: I love it when actors come on a show playing themselves but playing themselves in a really strange, crazy way (we're beginning to see that a lot lately, especially on shows like Curb Your Enthusiasm and Extras). James Franco got the treatment tonight, and I mean it as a compliment when I say that I had no problem believing that Franco would be someone who would fall in love with a pillow.