Quick Take: 30 Rock, "Let's Stay Together"
"You get an 'I Met a Congresswoman' sticker." - Regina Goodman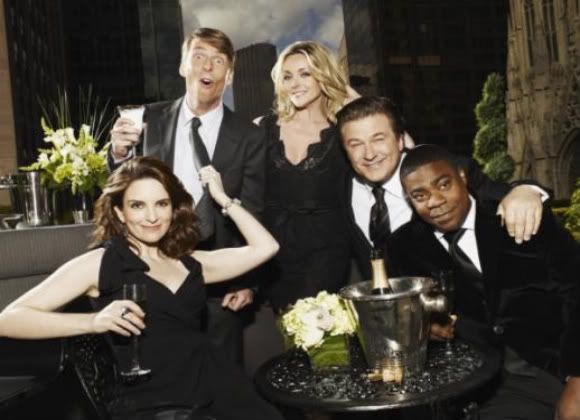 Review: 30 Rock, "Let's Stay Together"
(S0503) 30 Rock isn't a show that succeeds too often in creating consistently clever multi-episode story arcs. Most of the time they revolve around a Jack or Liz relationship that's going to end predictably or a plot that's introduced and mostly forgotten later (remember Liz's attempts to adopt a baby or Tracy's quest to win all four EGOT awards? Yeah, I barely do either.) Still, the potential of the upcoming arc about Jack's attempts to prove to a congresswoman (Queen Latifah) that NBC can become efficiently diverse in three months is pretty loaded. The problem is the potential might be higher than the beginning of the arc itself as "Let's Stay Together" was good... just not great.
Jack's attempts to put on a diversity show for Representative Regina Goodman came about after she embarrasses him and NBC during a hearing to determine the legality of the Kabletown purchase of NBC (speaking of storylines mostly forgotten). The truth is, Jack actually really truly believes in the positive aspects of having a richly diverse workforce, but it's not exactly an easy thing to prove to someone. He tries to appease Goodman by promoting Toofer to co-head writer and allowing Tracy, Grizz, and Dot Com to produce a new NBC series.
The Toofer storyline also happened to coincide with Liz's own issues. Her staff is treating her with disrespect by replacing her office door label with titles like Lez Lemon, Fart Barfunkel, Paul Simon, and El Tejón (spanish for badger). As a result, she is initially very receptive to Toofer's promotion as she thinks it will take some of the heat off her. But when it starts to get Toofer positive attention, Liz goes into a kind of knee-jerk revenge mode and tries to steal some of his spotlight by bumping her way onto an African-American issues talk show hosted by Reg E. Cathey (also known as political advisor Norman Wilson on The Wire). Liz's appearance leads to one of her trademark bouts of subconscious racism and her ejection from the show.
Meanwhile, Dot Com, being the artistic chap that he is, writes a pilot for a series called "Let's Stay Together" about the trials and tribulations of a black family trying to make it in 1960s Detroit. Tracy is skeptical, but when Grizz suggests there also be a talking dog, he's all in! The closing credits sequence featured a scene from "Let's Stay Together," with John Amos and the dog (voiced by Rob Reiner, who appears earlier as a Sex and the City obsessed congressman named Rob Reiner) and that's a prime example of things I find really funny: actors from Roots and talking animals. Gets me every time. (Hollywood, get to work on that live-action Huckleberry Hound film co-starring Ben Vereen, pronto!) (Author's note: I wanted to use Scatman Crothers for that joke until I was sad to find out via Wikipedia that he's been dead since 1986.)
Finally, the conclusion to Kenneth's proclamation last week that he would follow the proper channels to reapply to the page program was met with some funny, though not particularly original, comedy. I generally can always get a kick out of Jenna's nonchalant revelations about her childhood pursuit of fame, but I feel like outside of her almost-literal transformation into her mother, we've seen and heard it all before. Nonetheless, the end result is Kenneth back in his page jacket where he belongs (as if there was any doubt).
The highlight of the episode, though, was the wide-range of very funny guest stars. Latifah, Reiner, Cathey, and Amos all killed this week and I look forward to at least seeing Latifah return in the future (which I am surprised to write as I've found her to be pretty annoying in the past).
A few more thoughts about "Let's Stay Together":
"That's like saying a guy is cool because he has just a speedboat." - Jenna
"Say it, Meathead." - Jack
"Oh everybody born before Jesus is in hell..." - Kenneth
"I would point to Sunday Night Football which features many Black players and coaches." - Jack
Tracy thinks Dot Com Productions is his name spelled backwards.
"The Irish built and then filled the jails." - Jack
Tina Fey with a nice reference to Community star and former 30 Rock writer Donald Glover, calling him D'Nald Glover.
Kenneth ends his musical tribute to NBC by singing about how it's "a top ten network!"
"Oh God, tejón face." - Pete
"I had dinner with Don Imus last night and he told the following joke..." - Tracy
"Great fix, Grizz" - Tracy
Video: 30 Rock, "Let's Stay Together"
Check out this web exclusive video called Tina's Memories, from Hulu: