Quick Take: 30 Rock, "Live Show"
"Does it seem weird in here to you? Everything looks like a Mexican soap opera." – Jack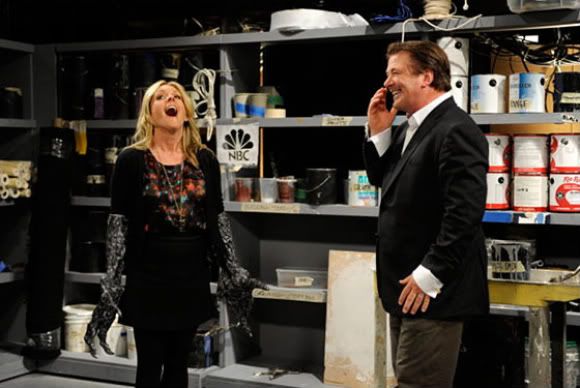 Review: 30 Rock, "Live Show"
(S0504) It was a first for "30 Rock" on Thursday when the show put on a live performance on both the east and west coasts and as Jack (Alec Baldwin) said, it did look like a Mexican soap opera.
Besides it being live, it was Liz Lemon's (Tina Fey) fortieth birthday, but no one remembered. Jack decided to quit drinking while Avery is pregnant and cannot drink herself. He tries knitting and magic to get him through not drinking, but needs to smell paint and Jenna's (Jane Krakowski) wine breath in order to get by.
Tracy (Tracy Morgan) and Jenna have their weekly rivalry when after watching "The Carol Burnett Show" and seeing the actors break from their characters, Tracy decides he is going to take the spotlight by having "accidental mishaps" during the TGS live show (which is filmed live as show-within-show). He starts to act up during the show by taking off his shirt and making his wig fall off ("Oh no! My Oprah wig is falling off. This is an exciting mishap. This is live!"). Jenna, getting annoyed with Tracy, decides to take things to the next level by "slipping a nip." Loved how they doing their live "TGS" show during the live "30 Rock".
Liz calls her boyfriend Carol (Matt Damon) to see if he remembered her birthday, but all he tells her during a storm that he is flying in is "Lizzy, if something were to happen, I want you to know that I...I need you to go to Raleigh, to my apartment and just clear out all the porn before my mom gets there." Liz is disappointed that is all he has to say, so he also tells her to record "Bones" in case he survives.
When she finally tells Jack it's her birthday, he gives her a thousand dollars as an apology for not remembering. Jack goes to the crew and tells them they need to throw Liz a party. When Carol calls Liz back he has landed safely and as she tells him it is her birthday she walks onto the soundstage to find her surprise party. "Surprise, I was in on it!" Carol tells her, after apologizing for not knowing. It was originally suppose to be the cleaning lady's (guest star Rachel Dratch) birthday party, but they meant well. In the end, Jack gives into Liz by sharing a birthday drink with her and as they go back to live he says "that's better". Yes, Jack, it is better.
Overall the episode was interesting, but I found it not as funny when it is live. There were some good jokes in it, but it was a little awkward and distracting with the live audience laughing along. A taped "30 Rock" is definitely better, but the cast did a really good job though and everything worked out well.
Other highlights:
Julia Louis-Dreyfuss making an appearance as "flashback" Liz Lemon.
The Brett Favre joke: "A Mr. Brett Fav-ray stopped by and dropped off this picture of a hot dog." - Kenneth. "Finally." - Jenna
Jon Hamm is back as Drew, promoting his hand transplant (a lady's hand with pink nails and rings that has a dirty mind of its own) during a commercial break from TGS
Tracy and Jenna's TGS Fox news skit: "Welcome back to Fox News. I'm blonde. President Obama, in your own words, why are you a terrorist who hates America?"
Matt Damon as Carol, if only he didn't have a movie career!
Cheyenne Jackson's (Danny) live opening number. This is another guy that needs to be on the show more often.
Video: 30 Rock, "Live Show"
Check out the west coast version of "Live Show" in full while available, from Hulu: