Just like last season, Jon Hamm directed an episode of Mad Men's Season Six, which is slated to premiere on AMC April 7th at 10/9c. And thinking about the Season Five premiere, the double-feature of sorts "A Little Kiss," can't help but to bring to mind the already iconic "Zou Bisou Bisou" scene, in which Don Draper's new wife Megan (played by Jessica Pare) first surprises birthday boy Don, now age 40, with a birthday party at their dank New York City apartment, but follows up with a sexy serenade that delights and titillates everyone attending (and let's be honest, everyone watching as well)… except for Don.
Pare reflected on Hamm's directing acumen, telling Zap2it, "He's really funny and really interested. He obviously knows everybody on the crew, since it's been six seasons now, and that sort of camaraderie is really important to the feeling on the whole set. That's certainly the case when you're the director, plus he's an actor ... so for me, it's simple. There's never any feeling he's questioning my confidence or capabilities. It's an easy thing."
But come on, really, this is all just a prelude to an excuse to embed the Zou Bisou Bisou scene, if but to distract you for a few more moments during the final weeks leading up the new Mad Men season. Enjoy:
A few other fun things to check out and do as we wait for the Season Six kickoff:
If you've not yet Mad Men-ed yourself, now is the perfect time. Here's what I was feeling today: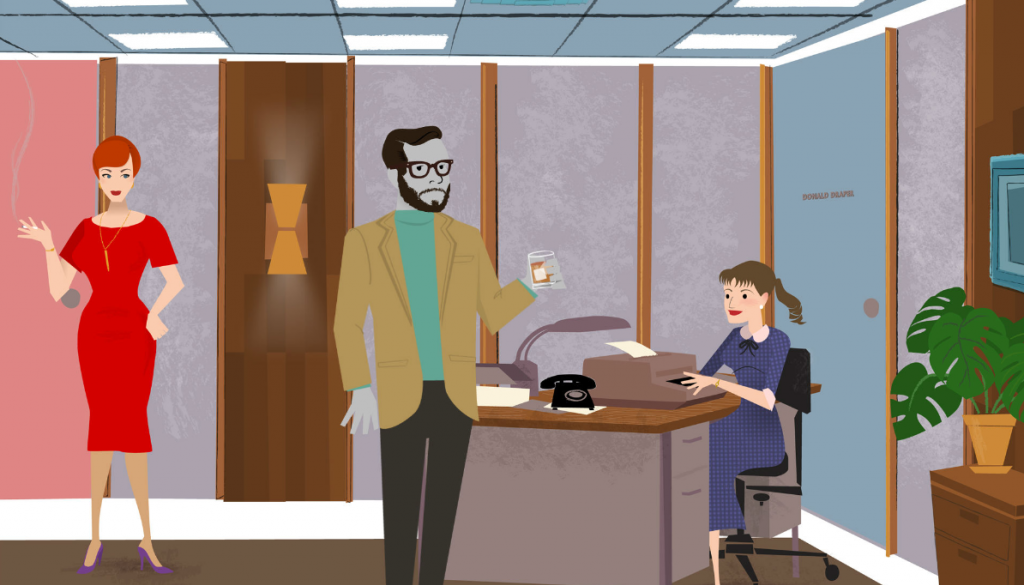 And don't forget that now is the perfect time to circle all the way back around to Mad Men's first season, way back in those (sort of) halcyon days of 1960! Recapture all of the glitz and angst and magic with A Mad Men Mixer: TV Geek Army's Unofficial Guide to Season One. It's only $2.99, people, and you get a whopping 143 pages packed full of the characters, relationships, history, gossip, and production factoids that founded the battleship that cruises even still today!
And finally, check out the fun and whimsical TV Geek Army's Top 10 Favorite Mad Men Characters.