Quick Take: Adventure Time, "Adventure Time with Fionna and Cake"
Finally: the long awaited gender-swap episode arrives.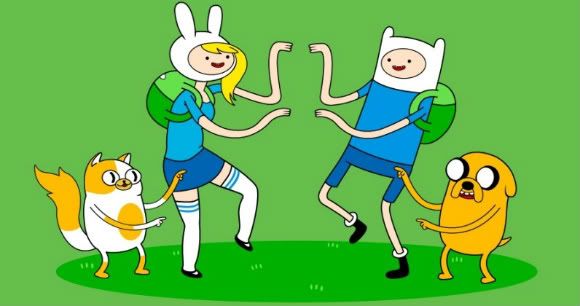 Review: Adventure Time, "Adventure Time with Fionna and Cake"
(S0309) When asking someone what they think is the "best" episode in a TV series, you are a likely to hear two different kinds of answers. There is the "critics' choice episode" that critics and casual fans praise that exhibit the best qualities of the show. Then, there is the "fan-favorite best" which does all of the above, but with a twist the hardcore fans appreciate. For example, with Buffy the Vampire Slayer, once could argue "Hush" is the critic's choice while the musical episode "Once More, with Feeling" is the fan-favorite. "Adventure Time with Fionna and Cake" falls into — or rather, will fall into — the latter category.
Fionna, the tomboy gender-flipped version of Finn, is asked out by Prince Gumball, the male version of Princess Bubblegum, after saving him from the "predatoring" Ice Queen. After a beautiful date filled with monster-slaying, singing and black unicorns, Gumball decides to invite Fionna to his ball... as his girlfriend. Things are going to well for our rabbit-headed tomboy for something not to happen.
This story has been dangling itself in front of fans' salivating faces for a while now. What started out as quirky concept art from the creative team's blog has turned into a well executed episode that not only captures everything the series is about, but also satisfies every feminist watching as well. Fionna's adventure starts off in a stereotypical fashion; she worries about her relationship with Gumball while trying to save the day on a daily basis. This is something that makes feminists churn their stomachs a bit. Finn functions without a girlfriend, so why does Fionna need one just because she is a girl? Thankfully, the episode subverts this cliché near the end with a well choreographed—and surprisingly visceral—showdown with the Ice Queen. The episode evokes a familiar "anime" vibe not in just its animation, but also in its content. Fionna is a cute girl that falls for a prince, but also combats evil forces on a daily basis. Does anyone besides me feel a Sailor Moon vibe from all this?
Unlike most Japanese animation heroines, our American Fionna finds self-esteem at the end of this story not through the arms of a man, but through her own talent as a swordswoman. This is a remarkable statement for a kid's show and hell, we haven't even gotten to the real twist of the episode yet. The voice acting enhances the experience with Neil Patrick Harris providing his Broadway-dipped tongue for Prince Gumball and Roz Ryan delivers a salty mouthed Cake. Every cell of animation pops and emanates with the writers' thoughts. Mark it, this episode will go down in fandom history as one of the "fan-favorite bests" of the series. Also, if you like to write fanfiction, stay with the episode to the end. Believe me, you want to.