Quick Take: Adventure Time, "No One Can Hear You"
"I want to get creamed!" - Random Candy Peasant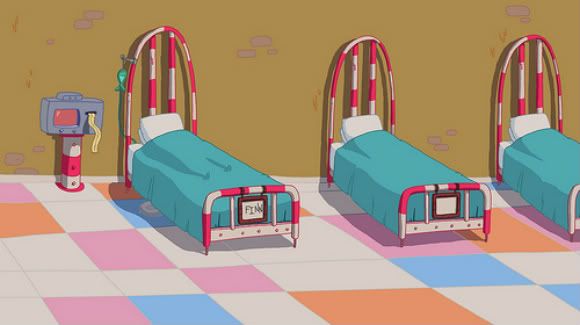 Review: Adventure Time, "No One Can Hear You"
(S0315) Finn can fight evil liches, giant demonlords, and titans with ears for faces... but he cannot fight a creature as simple as a deer. "No One Can Hear You" goes into "mind screw" territory. Call your therapists and mix your antidepressants, you are in for an entertaining ride. Adventure Time proves that the writing staff is not afraid to twist their audience's collective cerebellum.
A deer incapacitates Finn. When he wakes, he finds his legs broken and Jake waiting for his birthday surprise. Finn becomes suspicious and finds out that Jake has been waiting... for six months. Finn must now find out what happened to Jake and himself within that time. Through a surprising twist, Finn learns it was the deer who planned all of this in order to steal the molasses in the Candy Kingdom. Oh, and the deer also licks the candy people to stick them to a wall, like some Bambi-Hannibal Lecter. Let's just say some anvils needed to be dropped... and then flushed down a toilet. Adventure Time shows some "Looney Toons" styled antics by "killing" their deer psycho with anvils. They then — as described above — flush the deer down the toilet. Somewhere, a redneck is shedding a tear over this unusual approach to tenderizing veal.
Adventure Time shows it is willing to screw with your perceptions and expectations. You honestly don't expect the deer to be the culprit as it is mostly played as a running gag for most of the episode. It also does my heart joy to see John DiMaggio act out a more psychotic side of Jake. Not many actors can make sock puppets scary; DiMaggio pulls it off with finesse.
Adventure Time fundamentally is about a kid and his dog. This episode emphasizes how crazy and whimsical the series can become. "No One Can Hear You" also shows the series knack for irony. Seeing a deer beat up Finn is refreshing after seeing episodes where he vanquishes dark lords. Keep up the good fight Finn and Jake. The future of Oo depends on you and your stupidity.