Quick Take: Adventure Time, "Thank You"
This episode made me cry -- what ever happened to this kind of television?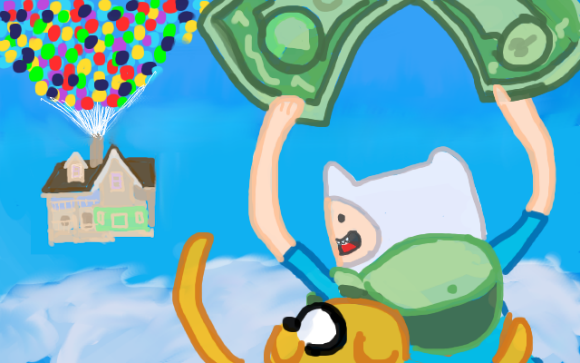 Review: Adventure Time, "Thank You"
(S0317) What ever happened to the kind of television that makes us cry? What happened to the writers who wanted people to break down in tears over characters? What ever happened to stories about friendship? Adventure Time reminds us of how television was supposed to be before people with MBAs took over everything. This episode brings us a tale with more humanity than most cartoons provide.
In this special Thanksgiving episode, Finn and Jake are distracted by Ice King and his impenetrable ice armor. Nearby, a Snow Golem befriends a firewolf pup. The pup was left behind by its pack and now the Snow Golem must make a decision on whether or not to take care of it. What follows is an unlikely friendship between two very different monsters. You see, Snow Golems are literally made of snow. The firewolves emit flames meaning the golem cannot touch the wolf without melting. This leads to some creative scenes of how the Snow Golem takes care of the pup, including one where he rocks it to sleep by cradling a chair back and forth.
Much of the mannerisms and poses for the snow golem are reminiscent of Hayao Miyazaki films. The Snow Golem emanates a unique innocence similar to Totoro and sounds like No-Face from "Spirited Away" if he were on anti-depressants. The dog and golem's arc is expertly handled. The snow golem's shape plays a strong role in the arc. The more he gives of himself, the more he melts for the pup. When returning the pup to the fire mountain, he realizes that if he saves the pup he will loose more of his body. He does it anyway and reunites the pup with its family. What's more heartbreaking is when the pup returns to visit him and he melts to a talking puddle while playing the dog.
It's a happy scene, but when you think about, the golem is killing himself for the pup. He can never be a full golem again unless he is away from the firewolf. This realization brought a tears to my eyes. You know the writing is strong when a character in a self-contained episode leaves this much of an impression on you.What ever happened to television—animation or otherwise—that told stories of selflessness? To counterbalance these intimate moments are humorous scenes involving the titular duo destroying Ice King's armor. The final scene shows Finn kissing Ice King on the cheek showing he cares despite their disagreements.
I'm man enough to admit I cried during this episode. Are you?