Quick Take: American Horror Story, "Afterbirth"
Sometimes you should listen to your gut or that little voice in your head.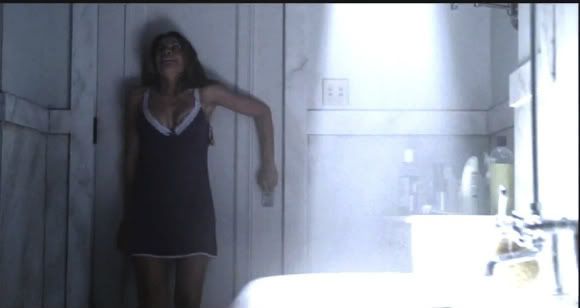 Review: American Horror Story, "Afterbirth"
(S0112) Fresh off two Golden Globe nominations -- Best Drama Series and Best Supporting Actress in a Drama Series for Jessica Lange as Constance -- American Horror Story wrapped up its freshman season with one of the best episodes yet. While previous episodes have been dark and creepy I found this one to be sentimental and poignant and offered closure to one part of the Harmon's lives in the house and the beginning of another.
Ben finds himself alone in the house and racked with guilt. We learn in the opening flashback that it was he who convinced a steadfast Vivien that the move to Los Angeles would do them good. She was set to give up on their marriage but he was able to convince her otherwise with the picture and description of the Murder House online. What I really enjoyed about the flashback was how you have Ben describing the idyllic life they could have in Los Angeles nine months ago interjected with images of what really happened. In present day, he goes throughout the house calling for Vivien knowing that she is still there, but she does not make herself known to him.
While retrieving his newborn son from Constance's house Ben notices the picture of Tate and Addy and all becomes clear to him. Upon returning home he sets in motion his plan to kill himself laying out keys, documents and so forth for Vivien's sister to find. Seeing a picture of Violet in his office makes him hesitate though. Which in a way is kind of ironic since we know that he's not killing himself because of his grief so to speak but because his death in the house will allow him to spend eternity with Vivien and Violet and live the life he had hoped for while they were all still alive? It is at this point that Vivien and Violet appear to Ben and offer him their forgiveness for the tragic events that have taken place due their move. Vivien convinces him to leave the house with the baby. As I was watching Ben proceed to leave the house I started to think really, it's going to be that simple? But of course it wasn't. Hayden appears along with the man and woman who terrorized Vivien and Violet at the beginning of the season. Hayden takes the baby and the couple hangs Ben from the ceiling chandelier. My one issue with this scene was how did Hayden get the couple to go along with her plan? They had no stake in the matter. In the end though Constance ends up with the baby.
After some time real estate agent Marcy is able to sell the house to another family, the Ramos' - husband and wife Miguel and Stacy and their son Gabe. She doesn't go into the full extent of the history of the house only telling them that Vivien died in childbirth and Ben, her grief-stricken husband, hung himself in the house. They respond with at least there wasn't a murder in the house. Little do they know. I was a little unsure of where the writers were going when they had the Ramos' move in to house. I mean, is this how it's going to be? One family dies another one moves in, which was basically how history was going for the Murder House up until this point. It's not long before Violet makes herself known to Gabe. Which, I must admit was kind of far-fetched in the sense that Gabe doesn't seem to think that there is anything out of the ordinary with Violet appearing in his room. He makes no effort to tell his parents but then again, when you think about it in a way history has repeated itself here. Violet is to Gabe what Tate was to her. She never seemed to question his presence in the house and also made no effort to say anything.
The Ramos' first night in the house is their only one. In truth, they didn't even make it to the morning. The terrorizing begins immediately and Ben and Vivien decide that they are going to join in on the hijinks, not to terrorize the family senseless but, to bring them to their senses and make them leave without looking back. Ben even dons the rubber suit for good measure to freak out Stacy. And while I know that terrorizing someone shouldn't be funny for some reason I couldn't help but laugh at the tormenting of the Ramos'. Especially when Ben and Vivien kill each other in front of them. It was very reminiscent of Beetlejuice.
Ultimately Vivien does get the baby she always desired. Her twin who was initially thought to be stillborn actually was born alive and died seconds later and Nora Montgomery has been caring for him. But, his incessant crying drove her crazy and she gives the baby back to Vivien. In the final scene with the Harmon's they are preparing for Christmas putting the finishing touches on a tree that Ben cut down himself with Moira there with them. On the outside looking in are Hayden and Tate, who want to destroy the happiness that the Harmon's now share. Ben moved his family to Los Angeles in hopes of a new beginning for them as a family and in a way they have it now. They get to live eternity together as a family unit protecting other families who may move into the house. They found happiness in death that they couldn't achieve while they were alive.
Things couldn't be left that sweet though. Three years later we see Constance boasting about the young boy she now has. How special of a child he is. We learn how special he is that's for sure. He kills his baby-sitter at the young age of three. I guess we know now the perversion that Billie Dean spoke about.
I must say that I was pleased with how the writers ended the first season of American Horror Story. Yes, there are questions of what's next, but, there wasn't some huge cliffhanger that will have me guessing for the next year or so before season two premieres.