Quick Take: American Horror Story: Asylum, "Continuum"
Bloody Face searches for his mommy.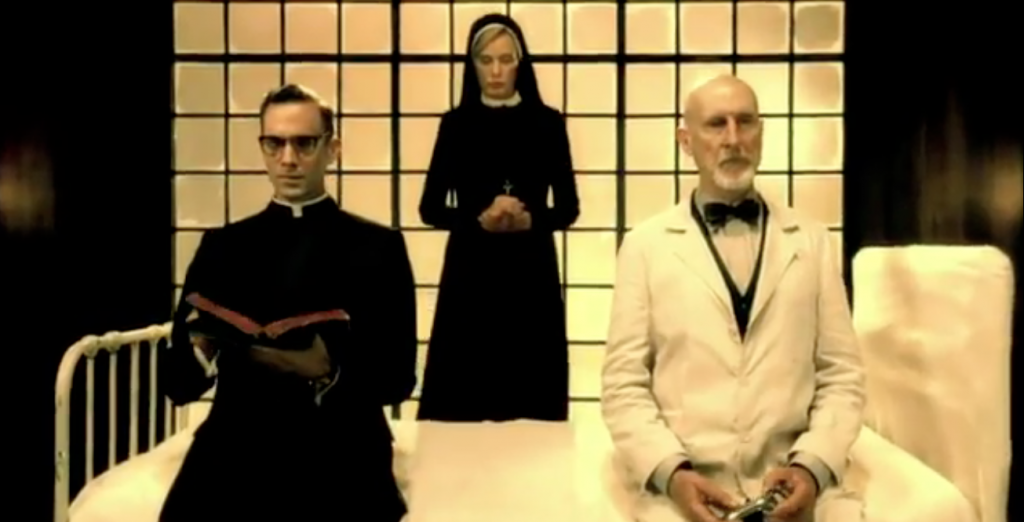 Review: American Horror Story: Asylum, "Continuum"
(S0212) Asylum now feels like it's going into "epilogue" mode as the story dwindles down to its final episode of the season. "Continuum" begins with Kit (Evan Peters) dealing with his now polygamous relationship with Grace (Lizzie Brochere) and Alma (Britne Oldford.) We also see Lana Winters (Sarah Paulson) has become a hit writer after releasing a book about her experience in Briarcliff. Sister Jude (Jessica Lange,) now known as Betty Drake, descends further into insanity as she is seeing visions of the angel of death (Frances Conroy.) Bloody Face aka Johnny (Dylan McDermott) now seeks his mother's book in order to do what his father couldn't: kill Lana Winters.
Asylum has been dying down since "The Name Game" and we are finally at the final moments of the series. The last few stories have felt more like epilogues rather than episodes. There is build up, as in Grace's and Alma's conversation about aliens, but it's not the same kind of buildup as we've seen in earlier parts of the series. In other words, American Horror Story fans, prepare yourselves for some kind of twist ending involving aliens and Jessica Lange.
The reason I say this is because Ryan Murphy has a love for the unconventional. As seen in Glee, he and his writers will choose the unconventional route for a story, even if it turns the story into a mushy pile of awkward dialogue scenes. That being said, even though the devil plot didn't lead to anywhere significantly meaningful, I feel this season has reached a form of narrative symmetry I haven't seen in television for a while. The story is ending where it began: with Lana Winters seeking a story and that ambition catching up with her. We are also seeing a reversal in Kit's family with Alma being institutionalized instead of Kit. As interesting as it is to switch these two's situation, it feels forced. Yet ironically, it makes Grace's death work. It's like they used her back story itself to foreshadow her own death in the present. Which brings in the awkward part of Grace's death: it undermines what Kit has wanted the whole series. Since Alma killed Grace (spoiler alert!), Alma is institutionalized. What Kit has wanted for the past eleven episodes is taken away from him. Some fans will rage with this, others, like me, will just scratch their head. The minute he finds his wife, she goes insane. It looks as though this story in the American Horror anthology will have more of a book end than Murder House (the official name for the first season,) meaning that everyone will have and ending, even with some vague plot twist involved.