Quick Take: American Horror Story: Asylum, "Split Milk"
Lana Winters finally receives her revenge while the ssylum goes through hellish times.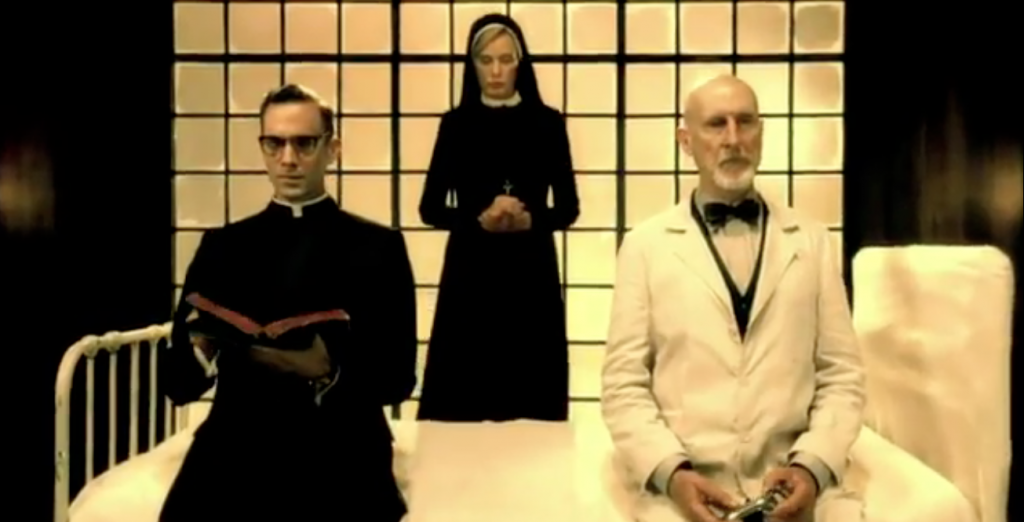 Review: American Horror Story: Asylum, "Split Milk"
(S0211) Bloody Face (Dylan McDermott) is growing more driven in the present while in the past we finally see Lana Winters (Sarah Paulson) face off against Dr. Olver Thredson (Zachary Quinto.) Kit (Evan Peters) and Grace (Lizzie Brochere) still clings to their baby fights to keep his baby, but Monsignor Timothy Howard (Joseph Fiennes) won't allow it. We also finally see Sister Jude (Jessica Lange) tell off the Monsignor. The plot is coming to a close and I am beginning to see Asylum in a whole new light.
Asylum is gradually closing its many plot threads. Unfortunately, ending the alien and devil story lines illuminates how meaningless these plot devices were in hindsight. What did the alien and devil elements have to do with Bloody Face? Was it all just backdrop for the Lana's story involving the mistreatment of LGBT people and abortion doctors in the 1960's? Whatever the reason may be, the more genre-heavy elements undermine the good qualities of this eye-opening story. Asylum feels like an historical piece that's using the genre of horror and thriller as a vehicle to explain the hardships of the 1960's. If anything, the show is trying to prove to its audience that we are better off now in the 2010's than we were back then. In other words, the real "horror" of Asylum isn't in Bloody Face or the sadistic Catholics. It's the unhealthy repression brought on by the traditional standards of the time. If it weren't for the strict traditions and societal values of the sixties, many of these characters would be considered sane. All that said, Asylum has a real, genuine argument beneath all of its unnecessary macabre. This season---this story---could have been a strong history piece without all of the horror fluff and I can't help but think of what could have been.