Quick Take: American Horror Story, "Pilot"
Can the creators of Nip/Tuck & Glee make a horror series hum? It doesn't look like it.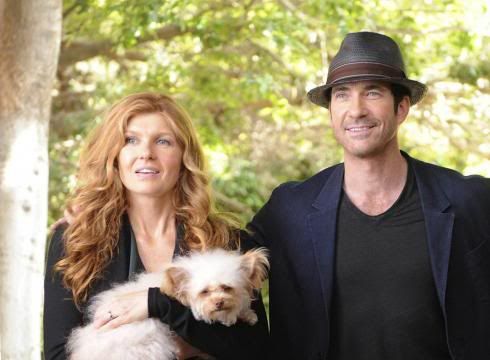 Review: American Horror Story, "Pilot"
(S0101) If you've watched any episodes of Ryan Murphy and Brad Falchuk's two series Nip/Tuck or Glee, then you know their unofficial mantra for showrunning might as well be "Go big, or go home." Both of those series were in your face from episode one, so it's really no surprise that their latest drama, with a horror theme no less, hits the ground running with over-the-top visuals, a cavalcade of freak show character introductions, mashed together with a litany of every kind of mental neurosis laid bare for exploration. Yes, there's a little something to be admired about being so overtly ambitious while never leaving the audience a moment to theoretically be bored. But there's a vast chasm between stunting and being good. And based on its pilot, American Horror Story is certainly not good. A guilty pleasure? Maybe, for some. A measured exploration of fear, anxiety and toxic secrets that bubble up to blot out the soul? That may be its ambition, but it's not even close.
A lot of critics and intrigued viewers watching the teasers for American Horror Story have thrown around comparisons to Twin Peaks, and if they're strictly talking about ball gags and dancing midgets, they might have a case. But for anyone that adored Twin Peaks in its early heyday (like me) and remembers the subtle, hypnotic way that David Lynch revealed his subversive (and often horrific) look into twisted suburbia is comparing its execution to American Horror Story with any sincerity, then they deserve a log bashing to the head. Sure, Peaks went off the rails at its end, but American Horror Story is off its rails in its first hour of existence. It's everything Murphy and Falchuk are already obsessed with – gingers, plastic surgery, overblown emotional confrontations, and perverted sexual issues – just amped up to a ridiculous level because of the contrivance of a "normal" family having moved into an evil house. If anything, the evil house just gives them more of an excuse to throw those topics around with "shocking" visuals (body parts in jars, leather fetish zombies, basement ghouls) with even less responsibility to really explore them.
At its heart, the show's core concept of an imploding family, led by Ben (Dylan McDermott) and Vivien (Connie Britton) Harmon, relocating from Boston to Los Angeles to start anew is a solid one especially with their particular set of problems. Vivien had a tragic miscarriage seven months into her pregnancy and had to give birth to her stillborn son. Understandably destroyed by that loss, she became distant. Feeling abandoned because of her withdrawal from him, the remarkably non-empathetic psychiatrist Ben decided to bang his hot student to feel better. Vivian accidentally walked in on it. Now a year later, (a period he must deem way beyond appropriate for his penitence) Ben's hurt and even a bit enraged that Vivian won't respond to his sexual initiations as they settle into their creepy, cost-effective old home. Really, Ben? Are you the dumbest shrink on the planet? Maybe you're just dumb for buying a house that was the setting for the former owner's murder/suicide? A little mysterious death is always a swell way to calm frayed nerves in a family setting.
But wait! Maybe you're the dumbest person ever for setting up your practice in the same house and then letting your deranged, psychotic teen client, Tate (Evan Peters), wander around your home without an escort out your front door so he can meet your anger-filled daughter, Violet (Taissa Farmiga)? I really could go on more about how dumb Ben is but there is so much more dumb to focus on like Violet's blindingly stupid and laughably bad screaming match with a stereotypical bitch girl at school. There's also Vi hiring milky-eyed Moira, the long-time housekeeper of the home, to take care of it again under their ownership. While Vi sees ginger, sage Francis Conroy in her kitchen, Ben instead sees a French Maid seductress version of Moira (played by Alex Breckenridge) amped up to get in his pants. Not catching the subtle? Well worry not because there's some masturbation scenes with Ben and young Moria to make sure you get what's going on there chemistry wise - *wink, wink, vomit*
It's here where I have to ask Murphy and Falchuk if I'm supposed to like Ben? Am I really supposed to even remotely feel like I want his family to stay together especially when I know this house is going to only make things worse? Sincerely, I'm only feeling for Addy, the Downs Syndrome neighbor that is obsessed with the residence and comes over to watch the ghosts (which she can see) mess with the new residents. Addy's stuck-in-the-Golden Era-of-Hollywood mother, Constance (Jessica Lange) flits in and out with a charming Southern accent to retrieve her errant daughter, calling Addy a mongoloid, which gives Vivian the creeps. In all honesty, Lange is the best part of show with her Donna Reed smile and sinister eyes. Finding out her story just might be enough of a pull to stick around with this mess. Denis O'Hare, as a burned up, former owner who murdered his family, is also intriguing despite his histrionic introduction. He warns Ben to leave the house, which leads to the biggest puzzler – exactly what kind of people would stay in this abode after the crazy manifests? In a two-hour horror movie, the dumb victims either get murdered for their foolhardiness or barely make it out alive in a believable time frame. How patient are we supposed to stay with a family that in a TV show has to remain stupid via their decisions day-after-day, year-after-year, in order to make the series a success? "Just LEAVE!" doesn't cut it when you want to be renewed, and there's the inherent rub with American Horror Story. Its characters have to stay abjectly stupid in order for it to live and that's not what good TV is about.
In more measured hands, I might be intrigued enough to get past the bloody bells and whistles and let the crazy calm down a bit to see where it all leads with some genuine hope. But having been disappointed twice before with how this duo launched both Nip/Tuck and Glee with such potential only to watch them fall apart like a house of cards because of a lack of substance, I think American Horror Story is doomed to meander like a lost soul.