Quick Take: American Horror Story, "Pilot"
The haunting and terrorizing of the American dream.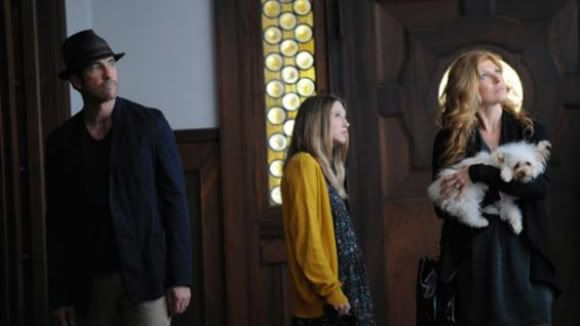 Review: American Horror Story, "Pilot"
(S0101) This was definitely one of the best premieres I have seen in quite some time. Not surprising though since it comes from the same people who brought us the recent hits Glee and Nip/Tuck. And while it is a horror show, I feel that it's more of a psychological thriller than a blood and gore type and of course something that can work into your psyche is always a bit for frightening than what is right in front of you.
The show opens in 1978 with a little girl, Adelaide, standing in front of a house warning two mischievous twin boys not to enter it. Of course they do not heed her warning and after vandalizing the upstairs they are drawn to the basement where they both meet their demise. Not before discovering preserved body parts in jars down there, including a baby's head.
Fast forward to present day and we meet Ben and Vivien Harmon (Dylan McDermott and Connie Britton) and their daughter Violet (Taissa Farmiga). They move to Los Angeles from Boston in an attempt to start over after Vivien's devastating miscarriage and Ben's subsequent affair with one of his students. Of course they move into the house where the boys were murdered. The real estate agent does inform them that there was a murder/suicide in the house and it doesn't seem to deter them from wanting it. Ben is more concerned with the deal that they are getting instead of the possibility of the house being haunted. Personally if you told me that someone had died in a house, especially in a violent manner, I would be hightailing out of there.
We soon learn that Adelaide is still in the neighborhood. As Vivien is removing the wall paper in the living room, which ultimately reveals a quite disturbing mural, Adelaide appears behind her and tells her that she's going to die in the house. What the hell? Having someone appear out of nowhere is freaky enough but then them telling you you are going to die is a whole other level. Adelaide's mother, Constance (Jessica Lange) soon appears and refers to her daughter as a mongoloid since she has Down's syndrome. Constance herself is quite scary and eccentric as well. She tells Vivien that Adelaide is drawn to the house and that it will be pretty difficult to have her stay away. Before leaving she gives her sage to cleanse the spirits of the house. Vivien decides to burn it and soon finds a vinyl gimp suit up in the attic. And of course Adelaide does return to the house and when she does she sees the murdered twin boys from 1978 standing behind Vivien.
There are some other quite interesting characters in the show as well. Let's begin with the housemaid Moira who shows up out of nowhere while Vivien is hanging the laundry in the backyard. She basically tells her that she comes with the house and Vivien decides to hire her on the spot. The creepy thing though is that when Vivien looks at her she's an older woman being played by Frances Conroy, but, when Ben looks at her she's young and sexy, being played by Alexandra Breckenridge, and does her best to seduce him. What's really weird though is that in one of the final scenes she walks in on Constance stealing a pair of Vivien's earrings and threatens her by saying don't make me kill you again. What? Are these people reincarnating or something? It kind of reminds me of the movie "The Skeleton Key" where the characters are always in search of younger bodies to possess so they can keep on living.
What's interesting about this fact regarding Moira is that during the episode I was questioning the vitality of another character, Tate. Tate is a patient of Bens' (he's a psychiatrist) and it's obvious from his sessions with him that he's quite disturbed and has some serious violent aspirations. He soon befriends Violet, who we learn is a cutter as is Tate, and they develop a peculiar friendship. Ben does try to report Tate but doesn't have enough information on him to file a formal complaint. Violet tells Tate that she's having problems at school with a girl and he formulates a plan to ensure the girl will leave Violet alone. They get her into the basement of the house and somehow Tate becomes a monster or conjures up a monster and maims the girl. Violet is understandably shaken and tells Tate to leave.
Throughout the episode Ben has been sleepwalking and is drawn to fire. It turns out that Larry Harvey (Denis O'Hare) once lived in the house and he killed his wife and two daughters by setting them and the house ablaze because voices told him to do it. He's out of jail now because he has terminal brain cancer. Ben doesn't really want to hear what he has to say and when he runs off Larry smiles. Doesn't seem like Larry was trying to protect him but just wants to cause more mayhem. But why?
In the final scene we learn that Vivien is once again pregnant. More than likely though Ben is not the father of the baby, but, whomever it was that she had sex with that was wearing the gimp suit she assumed to be Ben. Insane. I was a little taken aback that she wouldn't know her own husband, but, who knows what's going on in this house!
Yes, there is a lot going on on this show but I didn't feel like anything that was thrown out there was irrelevant. It seems that the house is affecting each member of the Harmon family by playing on the most vulnerable part of their emotions. With Ben it's tempting him with Moira and his previous infidelity, for Vivien it's giving her what she previously lost, a baby, and for Violet is playing on her own inner desires for retribution for those who have made her feel like an outsider. I just wonder how the show will go forward once all has been brought to light. The Harmon family must soon realize that things aren't quite right with their bargain of a home and how will they adjust to that. I'm definitely hooked though and can't wait to find out what other secrets the house may be holding.