Quick Take: Ancient Aliens, "Aliens and Monsters"
Were the mythic creatures of lore really alien creations?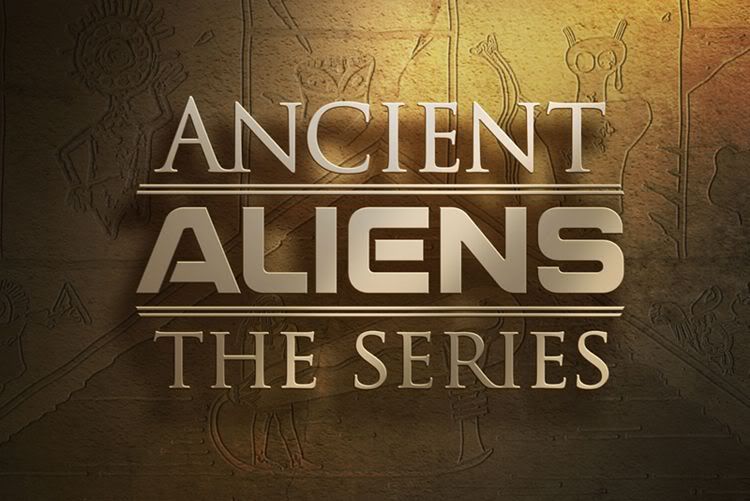 Review: Ancient Aliens, "Aliens and Monsters"
(S0302) Ever crack into a good book of Greek mythology and think, "You know, I bet the Minotaur wasn't a creature created by ancient whimsy and imagination, but was a real creature bred by aliens that were tinkering with humans and animals to create something new?"
Yeah? Then we may need to have some distance between us for awhile, but lucky for you this week's episode of Ancient Aliens on History Channel is right up your alley. This episode poses that maybe humanity has a very long history of actual genetic experimentation that goes back thousands of years to explain why culture after culture relate detailed stories about monsters and beasts that walked among them. From the Greeks and their chimeras to the fire beast of Garuda that supposedly grew from the flaming ash of the 3rd millennium B.C. city of Moenjodaro, the show's scientists, journalists, and conspiracy theorist experts all weigh in on the possibility that those stories were actual documentation of higher beings, or even aliens in existence, on our planet.
The show opens up with the recent creepy Montauk monster, a creature that was found washed up on the beach by some tourists. It was dead and looked like it was part dog, part raccoon and other unexplained parts that couldn't be ID'd as anything recognizable. The group took a picture of it and then circulated it on the web to great attention. However when science came calling, the carcass somehow disappeared at one of their residences.
Phony story or not, the discovery kicks off the discussion of whether the critter was actually a science manufactured mutant from a nearby animal laboratory. Cryptozoologist Loren Coleman confirms that science could indeed have created such a beast and has been for some time…for just exactly how long is the real question.
Could it be that hybrids documented in Ancient Greek mythology as creatures of the gods were actually real? Some posit that the beasts meant to scare man might have really been the work of the outer space gods who came down to Earth in their flying machines to experiment with the species at hand. With the Griffin -- a creature that's described as part eagle and lion and known as the King of All Creatures – it stands to reason that a highly evolved culture would look to merge the two most potent animals of the time to create something they could harness for power or just fear and adulation from the people of the time.
Too crackpot to be swallowed? Well, the episode does spin off into some pretty fanciful territory with the oft-used quote of note, "according to many ancient astronaut theorists..." which supposedly creates credibility to the most wacky of the theories mulled in the hour. But I have to ask: has one ever heard of an ancient astronaut theorist as a profession outside of this show? I want to see that on a business card one day. I have more incredulity about that being real than I do about some of the specious ideas bounced around by the rogue's gallery of talking heads.
The show does get very interesting when it delves into real scientific surgeries that were groundbreaking leaps into species transplantations and mutation experimentation. One was the Russian study of a functioning dog head that was grafted to the body of another functioning dog. The poor animal lived with the two heads for a few weeks. That success led the way to human heart transplantation. The second case took place at Case Western where one monkey's head was transplanted onto the body of another monkey. Astonishingly the surgeon was able to get the head to open its eyes, smell and breathe for a few days. Horrific tales both and infinitely more scary than any of the hour's various alien tales of ancient nuclear annihilation or flying monsters. As one scientist ominously portends towards the end, "We have the technology now to create a chimera or other "monsters" but we don't yet have the tech to bring one to term…but soon." If that doesn't make your blood run a little colder, I don't know what will.
However, for all the weirdness, I was able to identify my two favorite revelations of the night. One, that a 5000-year-old Sumerian Cuneiform tablet supposedly was translated to reveal that creatures from outer space came here to mine for gold and used genetic engineering to actually create homo sapiens to dig the ore for them. I can't tell if that's just plain sacrilegious or the missing link inspiration for Cowboys & Aliens.
Even better is Giorgio A. Tsoukalos, the publisher of Legendary Times Magazine. While he's a big believer that aliens with technology were behind the origins of the Garuda, the real fish in the Bible's Jonah and the Whale story and much more, it was Tsoukalos' hair that owned the screen every time he appeared. I was transfixed. After numerous appearances, it clicked that it stands to reason that an alien expert would know the machinations of the E.T.s so well because they are his people?
I leave you with the evidence:
Giorgio A. Tsoukalos or Londo Mollari? You tell me.