Known for creating Adult Swim cult hits Sealab 2021 and Frisky Dingo, Adam Reed has now created the funniest spy spoof since Get Smart in FX's Archer. The first season is available on DVD and ranks as my favorite TV comedy of 2010.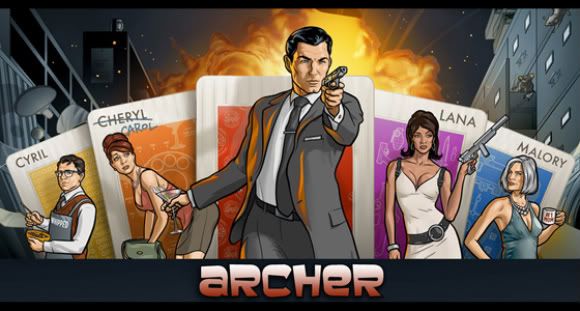 The series is a crazy mix of Cold War spy games crossed with bizarre, modern-day office politics. The title character is Sterling Archer (H. Jon Benjamin, whose voice work I have been a great fan of since his days on Dr. Katz), a mix of James Bond and Inspector Clouseau. He works for ISIS and his boss is his mother Malory (Jessica Walter), which complicates things especially when it's hinted that his father is an enemy agent.
Adding to the awkwardness in the workplace, his former girlfriend Agent Lana Kane (Aisha Tyler), the hottest-looking animated female on TV, is dating meek ISIS comptroller Cyril Figgis (Chris Parnell). Though he denies it, Sterling still has feelings for Lana. Cyril thinks Lana shares them, which she doesn't, although admittedly, that's hard to believe when she was involved in a threesome with Archer while on assignment. It becomes a love --"love" might not be the right word -- quadrangle when Malory's secretary Cheryl (Judy Greer) has kinky sex with Cyril in order to make Sterling jealous, though since he can never remember her name, that may not be a good plan.
Sterling's adventures find him protecting a UN Chairman, seducing a homosexual Cuban agent, and taking a job with rival agency ODIN. The characters and plots are wonderfully unpredictable, and the series' sense of humor is wild, risqué, and definitely earns the Mature Audience rating. The artwork is very well done, using a lot of thick, bold lines and a vibrant colors.
In addition to the 10 episodes from Season One, the two-disc set includes the original unaired Archer pilot with a different actor that skewed too old, along with pilots for FX series The League and Louie. There is also an Unaired Network Promo; The Making of Archer (21 min), a rather dry feature that takes viewer through the following aspects: 3D, Animation, Art Direction, Backgrounds, Illustration, Storyboards; and Deleted Scenes (2 min)
If it meshes with your sensibilities, Archer is an extremely funny show. The second season premieres on January 27th at 10:00 on FX.