NBC's compelling drama Awake (airing Thursday nights at 10pm EST/PST) continues to unfold with plenty of intriguing predicaments as Detective Michael Britten (Jason Isaacs) tries to maintain his complex mental high wire act of living two lives in his head. After a devastating car accident with his family killed either his wife, Hannah, or his teenage son, Rex, Britten has been sleeping one reality and living the other to make sure he continues to have them both in his life. But which one is really dead – Hannah or Rex?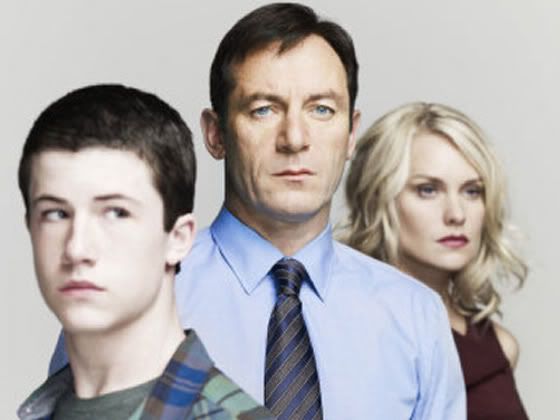 Britten doesn't want to know the truth so the audience is just as in the dark as his separate therapists (played by BD Wong and Cherry Jones) trying to coax him out of the potentially harmful farce.
Guess who else is clueless? The actors that play Hannah and Rex, Laura Allen and Dylan Minnette, are flying blind too but that's just fine with the pair who are relishing their opportunities to work with Isaacs in their own realities.
In a recent conference call with the actors, TV Geek Army got to ask them to answer some burning questions about how the realities work and just why they can have their own storylines outside of Michael.
How is your character evolving with Michael in their new dynamic?
Laura Allen: He and I are really not adapting to the situation obviously at the same rate. And the question that I'm constantly asking in portraying Hannah is he on board with me, are we grieving together, are we moving forward together, can we connect over this loss of Rex? In the grieving process there's so many times things that Hannah learns about herself, learns about Rex when he was alive that almost keeps him alive for her. She evolves in a different way because she's sort of bittersweet and has the memory of Rex where he's very actively involved in Rex's life. So we're becoming very more divergent and still yet trying to move forward together so it's very interesting.
Dylan Minnette: I think for Rex it's a little different because he's in a different situation than Hannah where Michael is his dad and he's always telling him, you know, what to do and he's adamant about things. So I don't think he really thinks about his dad missing his mom as much as he does. But Rex really keeps it to himself because he doesn't want his dad to see what he really feels about it. And he opens up to him sometimes, but it's really hard for him to do that because he was really close with his mom. But Rex kind of evolves with Michael. You'll see because Michael's doing his best to feel close to Rex, and you'll see things throughout the season where Rex gets closer to him or just farther away.
It's really fascinating that we actually get to see your perspectives outside of Michael's - having your own moments. How did the producers explain to you how that works within the constraints of him being in both universes?
Laura: I know when I first read those scenes - any scene without Michael Britten - I thought does this validate the red world? Does this mean that it really is existing outside of his dreaming and all that. But I think what Kyle (Killen), our writer, creator, producer, is saying is that it's what he calls disappearing narrative theory. We dream more than we can remember about dreaming and know that there are pieces that we only remember the parts that we're involved in or he's only remembering parts that he's involved. But we do exist in part of a larger world if that makes sense. Dylan?
Dylan: Right. after we did the pilot and before we got the next script that actually got picked up and everything, I thought to myself well every single one of my scenes is going to be with Jason. So there's no other way that they can do that. And then I got the next script I just says like I was proven wrong. We found out about the theory and I've learned more. And like you asked yes, you will see some more of that this season.
So Hannah knows that Michael dreams about Rex, but Rex doesn't know about Michael's dreams about his mom?
Dylan: Right, I think Michael feels a little more comfortable with Hannah, a little closer to her and I think that with Rex they're not having issues, but they're just having some troubles of communicating with each other after losing Hannah. I think that telling Rex about the dreams would be the wrong thing to do so that will probably get brought up in the future too.
As the series continues, do you get the chance to work together again in flashbacks?
Laura: Well, I think we were pleasantly surprised by the end of the season that we do get to work together a little bit. That's all I can say.
Is there anything that the both of you would really like to see your character experience on the show?
Dylan: I'd like to see how Rex would react to finding out about the dreams.
Laura: I hope that there's a day that [Michael] has full disclosure with me about his dreams.
Are either of you kind of rooting for one or the other as far as being the one that's alive?
Dylan: I'm not because I think the purpose of the show it's not for Michael to find out who's alive, who's dead; it's Michael struggling and trying his best to keep both of them alive because he is so scared to lose one. I think throughout the show the viewers and as the actors ourselves are just going along for the ride with Michael and that's the purpose of the show - to go along for the ride and hope that both are alive.
Laura: I think it's like the anti rooting, you know, it's like we are on Michael's journey and if anything we're rooting against the therapists who are disproving one reality over the other. I mean, I think he's just trying to keep it together and be good at his job and have a fulfilling meaningful relationship with both his wife and his son.