Awake premiered last week with decent ratings but it's absolutely a show that deserves a bigger audience. Never underestimate the power of word of mouth though because audiences that did partake last week have been pretty vocal about their enthusiasm for the show.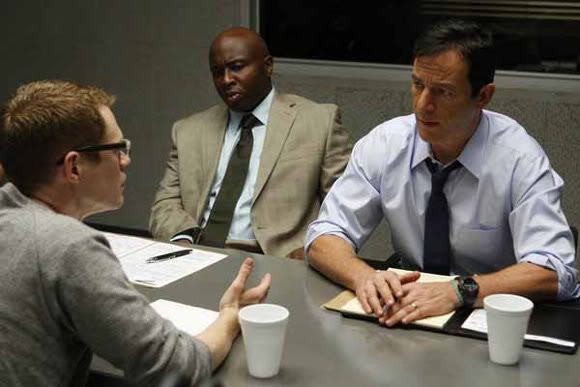 Episode Two, "The Little Guy," airs tonight at 10pm on NBC starring Jason Isaacs as Detective Michael Britten, a cop and family man coping with the aftermath of a devastating car accident involving him and his wife, Hannah, and his teenage son, Rex. Long story short – one of Michael's family dies but Britten can't face that truth so his subconscious has created a new reality where he splits his conscious hours with his still living wife or his still living son. There's loss in both realities but he doesn't have to really let either of them go.
Twisted?
Oh, yeah, but beautifully so, especially as seen through the haunted eyes of Isaacs' Britten.
At the end of the pilot, Britten basically laid it out to his therapists in each reality that he was not interested in ever knowing which reality was real and which was a fake. He has every intention of making this new dynamic work so he can still have them both. How will he do that? TV Geek Army had the chance to talk to Isaacs recently where he shed some light on why Awake was so attractive to him as a project and what fans can expect from the show.
The pilot left us with Michael saying that he is fine with this new reality and he doesn't want that to change. Does he keep it going through the first season?
That's exactly what he says because that's what he would like to have happen but we'd be idiots if we let that happen for him. So he thinks that he wants things to stay exactly as they are and anybody with any kind of insight in humanity knows that it can't be good for him and it's not right and there will be consequences. Look, his wife has lost her son and his son has lost a mother and he's the guy that is pretending that he's lost neither and try to cope and be a decent husband and father. I don't think it's going to work out for him the way that he'd like it to.
What attracted you to this script and premise?
Well, I was in Los Angeles because I had sold an idea for a TV show that I was desperate to make that I thought would be something that I'd really like to be in and help make. But I sat down with Howard (Gordon) and he said, "Look Jason, I just read this thing. I create my own things, you know, I did 24, I've got Homeland starting. I really don't want to get involved but I read it, it's just too good. I'm asking you, just please take a look at it." And I looked at it and it was like somebody giving me a hit of crack -- I just couldn't get it out of my system. I took the job not even because I wanted to do it, it was just because I would have been too resentful if anyone else had done it. And mostly if I had to boil it down to one thing I wanted to find out what happened in Episode Two before anyone else.
This show seems to defy genre definitions. How do you describe it?
It's Awake and we would love it if everyone who likes sci-fi loved it and everyone who liked police procedurals loved it and anyone who liked emotional psychological dramas loved it. But it wasn't designed to fit demographics; it was designed to be a great story. And hopefully it's universally acceptable.
How far ahead did you know what was coming story-wise as the production progressed?
That's a very good question because it's pretty well documented that we shut ourselves down halfway through the season. We were a few stories ahead and then as we started shooting it we found that it was a lot more work than we thought. they would write the initial story and then the second draft and third draft and you start shooting it and you realize it needs refining constantly because, you know, it's like making a puzzle backwards or Rubik's Cube backwards. We just got to a point halfway through the season where we went actually we're not confident the stuff we've got coming up is as good as the stuff we shot already. And now we want to stop and review what we've done and check where we'd like to go for the rest of the season. We got a chance to get ahead of ourselves again and then by the time we got to the end of the season.
I don't think any of [the writers] have experienced anything as challenging to make as this, I'm sure I speak for all of them. And that's because to make something complicated seem simple to an audience is harder work than to do something that is just cookie cutter. So the answer is we tried to get far ahead of ourselves, we were catching up, and then we were allowed the license to stop and catch up on ourselves again.
Is there going to be any rhyme or reason as to how the season unfolds for Britten?
I think it's pretty hard to know exactly what's going to happen. Sometimes, you know, some similar things happen on our show and sometimes we can go right off pace and take you off in a different direction because once you know the central idea and you're in tune with the characters, we can take you to many places. I think the writers felt that freedom and that challenge. And so did the directors. We've got some great directors, guest directors that come in. And if we get to do a second season I think we would go even further off field with it.
Why should audiences give Awake a chance?
We're just trying to put the best stuff we can out there and, you know, I'm English so I have this slight natural aversion to saying we have made an amazing show, come and watch it, it's brilliant. I would rather be in the supermarket giving people free samples. I'd rather say come and try it. If you don't like it, don't come back. But I'm available for weddings and children's parties. And you'll see me on the street corner twiddling a cardboard sign saying Awake, Thursday nights, NBC.