Bachelor Pad is back and Season Two seems like it will be filled with lots of drama. A guaranteed source of drama for example will come in the form of Season 14 Bachelor Jake Pavelka and his ex, Vienna Girardi.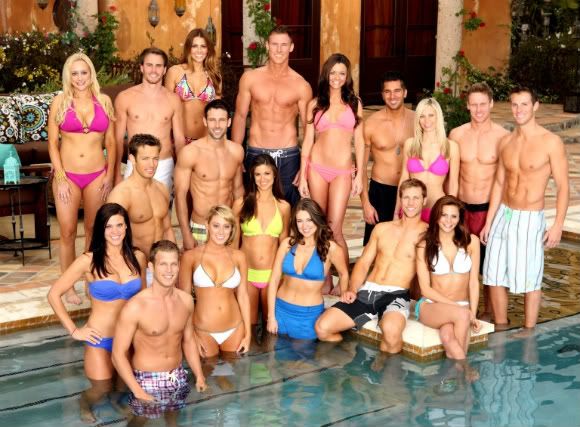 They will have to deal with each oher again as cast members, and it looks like it will be even nastier than the last time they met on camera. The two definitely do not get along and it will be interesting to see how their distaste for each other will play out in the house.
Sixteen other Bachelor/Bachelorette alumni will be joining Pavelka and Girardi in the pad to compete for $250,000. Notable contestants are Girardi's current boyfriend, Kasey Kahl, who will no doubt have trouble with Pavelka. Gia Allemand, who competed on Season One of Bachelor Pad, is back again to compete and it seems like she will be on Pavelka's side, having had some trouble with Girardi a while back. With Pavelka and Girardi in the house, others might have to choose whose side to be on.
I recently had the chance to interview Bachelor Pad Season One winner, David Good, about Bachelor Pad 2 and found out what he has been up to since he claimed victory.
Erin: What have you been up to since winning Bachelor Pad?
David: Things have been great since winning. I launched my first book, The Man Code: A Woman's Guide to Cracking the Tough Guy, and have been on a book tour for that. I signed a contract with True To Beauty to endorse a libido pill for men and woman called The Love Pack. And I have been a regular on The Today Show's "Guys Tell All" panel, which is super fun. There are lots of other great things in the works too.
Erin: What inspired you to write "The Man Code" and will there be any more books in the future?
David: I just think that men in America are starting to slack a little in the accountability, chivalry, and pride departments and think that woman have a lot of power to help change us for the better. That is the premise of the book; to help woman better understand "man code men" and know what to look for to find them.
Erin: Regarding your Bachelor Pad win, what made you want to share the money with Natalie?
David: It was the right thing to do. We had helped each other get there as a team and we should split the money as a team.
Erin: Are you involved in Bachelor Pad 2 at all?
David: Yes. Natalie and I are called back to guest judge a competition.
Erin: What is your opinion on the new season's contestants?
David: I think it's great. The show is going to have a lot of different dynamics to it with all the couples and old couples combined in the house. LOTS OF DRAMA.
Erin: Out of all the contestants of Bachelor Pad 2, who do think has the best shot to get to the end?
David: I would say Mike Stagliano or Michelle Money. They are both smart, funny, and know how to play the game.
Erin: What advice would you give to this season's contestants?
David: Honesty and trust go a long way in this. If you start out with lies you will weave a very tangled web that you might get caught up in.
The new season of Bachelor Pad will premiere Monday, August 8th at 8pm on ABC.