One of the most enduring characters in the DC Comics universe, Batman has been refitted yet again, as Batman: The Brave And The Bold.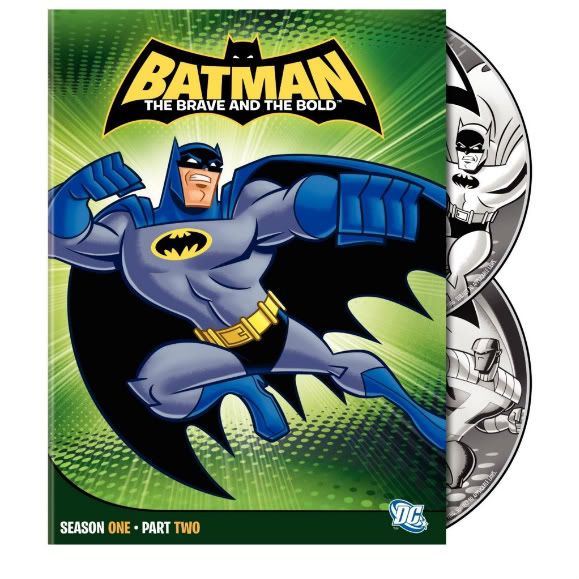 This Cartoon Network series features The Dark Night teaming up with other superheroes for each episode. The latest two-DVD collection of this fine program is the second half of the first season, and features thirteen episodes.
While Batman is (as always) bad-ass, he also possesses a most post-Millennial sensibility. There is a marked dry and ironic tone to the character, which is refreshing. This allows him to be stoic throughout, while his temporary side-kicks tend to be somewhat emotional, overwrought, and even cowardly at times. Of course redemption is gained by their exposure and saving the world exploits with Batman.
In the second volume of Season One, the DC superheroes who team with Batman include Aquaman, Booster Gold, Blue Beetle, Red Tornado, Green Arrow, Dr. Fate, Sherlock Holmes (believe it or not), and even old pal Robin. They go up against some pretty mean dudes in the form of Equinox, Music Meister, Gentleman Ghost, and the ridiculous Bat-Mite.
Each episode actually contains two adventures. The first generally runs about 2:30 before the opening credits, and features a villain and story unrelated to the main episode. Pumpkin stealing Scarecrow is a favorite, and Batman is joined by The Flash for this shortie. The main story called "Trials Of The Demon" sees Batman paired with Sherlock Holmes for quite a tale in Merrie Olde England. "Legends Of The Dark Mite" is brilliant.
The opening short features Batman teaming up with Catman for a fine Crouching Tiger, Hidden Dragon homage. Then the real fun begins with Bat Mite, a Batman fan from the fifth dimension. Bat Mite wants to see Batman fight a worthy fight so he creates King Calender -- who has the power to in turn invent calender-themed villains. These include "An army of Halloween jack-o-lanterns, a legion of biker Santas, and a company of uber-patriotic Uncle Sams." This episode is positively surreal. Add to the inventive stories the remarkably vivid animation and the best music this side of JG Thirwell's Venture Bros. work (courtesy of Andy Sturmer), and you have another definite winner for Cartoon Network.
Batman: The Brave And The Bold is a state of the art updating of the indestructible Batman series. Absolutely essential for fans of The Caped Crusader.
Video: Batman: The Brave And The Bold - Season One Part Two