Rumors are popping up all over the webs (I caught it on Ain't It Cool News) that Beavis And Butt-Head, that quintessentially 1990s low budget, lowbrow, self-consciously stupid riff on all things music television and pop culture, might be coming back.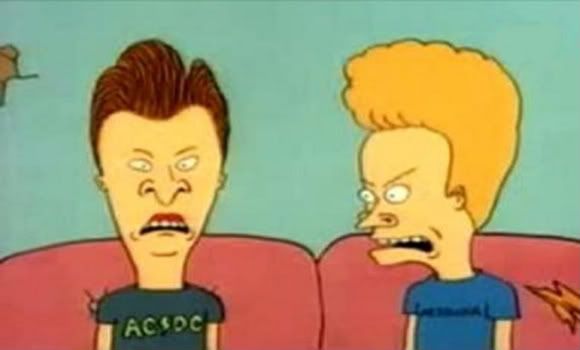 I have to say that I'm not sure bringing B&B back now makes sense (more on that below), but I'm looking forward to checking it out.
Here's a classic Beavis and Butt-Head sequence, called Couch Fishing:
I want to remind about something that gets overlooked with this show. The full blown animated segments were actually interstitials for the "real show," which featured the kids sitting around talking, giggling, and rant-ifying while watching music videos (Beavis and Butt-head are offscreen, mostly like Mystery Science Theater 3000). Those parts were often the funniest in my view, as they provided an entertaining commentary and goofball-of-dumb layer to music videos that were even then losing their steam as a cultural force.
Quick example of how the show worked at its peak: I spent the late '80s and early '90s listening to classic rock, mostly rejecting the pop music of the period, so was delighted when the kids found themselves watching Led Zeppelin's "Over the Hills and Far Away." The song starts off relatively softly and acoustic, a style that we know full that the boys eschew. They're deeply worried that the song and video are going to suck. Butt Head, I believe, cautions that they must exhibit an uncharacteristic patience. It's going to kick ass soon, he believes. So it's a great payoff when the song kicks into high gear and, of course, does truly kick ass, and we get to celebrate that fact along with our young heroes.
The show originally aired from 1993-1997. I don't wonder so much if Beavis and Butt-head as an animated show will be relevant today – the kids are kind of timeless. I wonder though if the music videos themselves will be relevant. Does anyone watch them these days? Will there be the context for people to care about B&B's reactions?
Or maybe there won't be music videos on the new show at all. Maybe we'll see the kids now somewhat grown up, working crappy jobs. Perhaps they'll goof off together and sit around an ancient computer monitor and goof on YouTube videos?
That might be kick ass.