Quick Take: Being Erica, "Erica, Interrupted"
Erica wakes up in a hospital to find the last two years erased.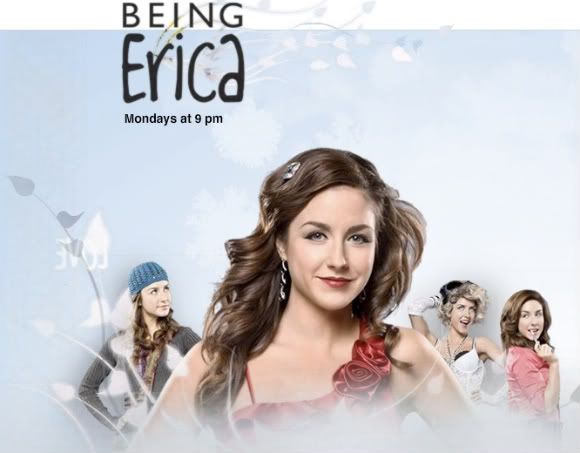 Review: Being Erica, "Erica, Interrupted"
(S0313) Previews of the Being Erica Season Three finale suggested that it was going to diverge from the somewhat dull trajectory the season has followed lately. The spots included shots of the show's pilot and a shot of Erica talking with her dead brother Leo, on whom much of Season One hinged. Half of the "Previously on Being Erica" material at the opening was from the pilot. It looked like fans of the show were going to be rewarded for their three years of loyalty.
The episode finds Erica on top of the world or, in her words, a metaphorical mountain. Everything with her family, friends, love life, and work are going well — too well. We are reminded that her divorced parents are at least friends again if not more, and that her sister Sam has finally found love after a miserable marriage. There is no mention of the latest events with Erica and Julianne's publishing company, 50/50, but it is implied that things are smooth there.
Then Erica wakes up in a hospital. Dr. Tom is there, but he's not Dr. Tom, therapist with the power to send people travelling through time. He's a neurologist named Dr. Wexler. Julianne appears as a nurse and Dave as an orderly. Erica is told that she has been in a coma for two weeks (although she hasn't a single tube attached to her as she lies in the hospital bed, but we'll let that slide) following the allergic reaction she had in the pilot.
In the original timeline, Erica went into anaphylactic shock, was rushed to the hospital, and quickly recovered over night at in her childhood bedroom. In this new twist, she is told she hit her head in the process and got a concussion. Upon leaving the hospital, she finds herself back in that bedroom, wearing the same pajamas, essentially reliving that morning. Her family and friends have gathered for brunch. The show's creators made an impressive effort to recreate the scene almost exactly, down to the offhand and irrelevant conversation about Sam and Josh's house. As in the pilot, Erica puts on the pink jelly shoes from her dresser and jumps out her bedroom window to escape.
At this point the shark jump alarms might be going off. Are the writers really going to undo the last two years of this character's life? We've seen Erica in alternate realities before and she always winds up back where she belongs, wiser for the experience. She seems to think that is what's happening here as well, only this time, even Dr. Tom has abandoned her. To the audience, it might look like she really has snapped and the show is about to take a new direction.
Then Erica runs into Leo. Every time Leo appears in an episode, as a kid or as an adult, there's this swell of emotion. Erica's face lights up, so grateful for even a few moments with the brother she's lost, even though he is oblivious to the fact that there is a reality without him. And although he's a troubled kid, he's always portrayed as a good guy underneath, who really loves his little sister.
This time Leo appears as Erica is standing on a bridge. In another show, this set-up might look like a person contemplating suicide, but Erica is not that kind of character. If that's what the writers were going for, they missed the mark. This version of Leo is a figment of Erica's imagination, taunting her to end it all. Why do hallucinations always tell people they're hallucinations? Anyway… He taunts her by repeating the speech she makes at the opening of the pilot about how messed up her life is. It's disturbing to see our beloved Leo acting like a jerk, but it gives an opportunity for Erica's epiphany—that she has learned what she needed to learn from her time travel, real or imagined.
So it seems Erica has passed a test, there was no coma, and she is destined to become a therapist like Dr. Tom. Although the path toward becoming one of these therapists has been hinted at, it's kind of an anti-climax after all the possibilities the coma story line opened up. At least Adam didn't get promoted along with her and maybe now his boring presence will stop dragging down the show. And, as in each previous season, we are left with a cliffhanger. We have to wait until Season 4 to discover who Erica's first patient is (someone we already know?).
Other open-ended questions include: what are Brent's motives for so desperately wanting to bury the hatchet with Julianne, and what will happen to Judith's marriage. Also, a new character was briefly introduced: Jana, an old girlfriend of Dave's. These seem like minor points, but this show has a way of paying attention to detail.
So, on to Season Four. No spoilers, Canadians!