Quick Take: Below Deck, "She'd Better Not Be Saying"
"Serving Adriennemakes me want to vomit in her face." – Kat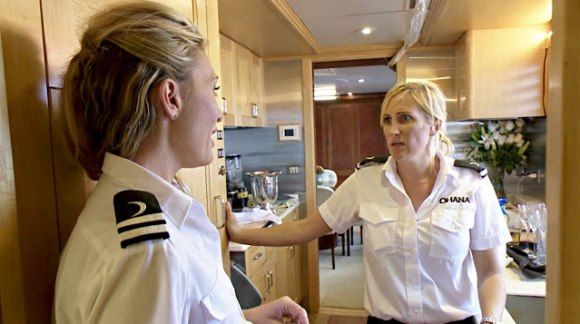 Review: Below Deck, "She'd Better Not Be Saying"
With most (okay, most) reality shows, you're always trying to contend with how many situations are contrived and to what extent the producers have manipulated situations to drive the drama or intended narrative.
In the case of Adrienne's return, it doesn't matter in the slightest as it's pure ludicrous joy to see her back and causing havoc amongst her old co-workers.
After drinking it up with boat guests and friends (and there's your contrived-by-producers-alert right there, but again, who cares!) at the Soggy Dollar Bar, Beverly invites dear hart Adrienne back to the boat. But even before they left the beach, this episode of Adrienne Unleashed began as she unleashed the gossipy hammer on her old employee/nemesis Kat in the form of recalling a story in which, she claims, Kat screwed over old friend and current co-worker Amy by, um, performing favors on a guy Amy had her sights on.
Inevitably Kat confronted Adrienne, to which the latter finally fake apologized, saying, "I apologize for offending your delicate sensibilities."
Various reactions to the news that Adrienneis heading back to the boat include Ben's, "Shut the f—k up." But Captain Lee perhaps takes the cake with his cutting remark upon seeing his old employ: "I see you forgot the rest of your clothes." Oh, you old salty dog you, Captain Lee.
AdrienneUnleashed included a bout of mock-scissoring on the bed with Beverly (and for any of you kids out there who want to know what scissoring is… this ain't the place to get educated, sorry!). And that was just the start to the guests getting drunk, silly, stupid, and down, even by Below Deck standards. Granted, if I spent $100,000 to charter a superyacht, I'd probably want to get my money's worth as well. But maybe with a just a touch of class, you know what I mean (as like Ron Burgundy advises, we here at TV Geek Army attempt at all times to keep it classy). Kate, in a touch of genius, dubs the guests as classy a-holes, or classholes.
And while the frivolities (okay, idiocies) continued on the top deck, the ripple effects of Adrienne Unleashed continued in the form of an upset Amy confronting her boss Kate about overhearing her being spoken about in she said-she said fashion with regard to the gossip being dropped. Kate, true to form, treated her employee with icy indifference.
Speaking of old cast members taking a turn, I wouldn't be surprised if we haven't seen the last of dear old castaway Andrew. There's just too much good stuff to mine (read = unleash) there.