Below Deck, "Strains, Stains and a Big Pain": bury the kiss hatchet
Quick Take: Below Deck, "Strains, Stains and a Big Pain"
"Ultimately everyone wants what they can't have." – Ben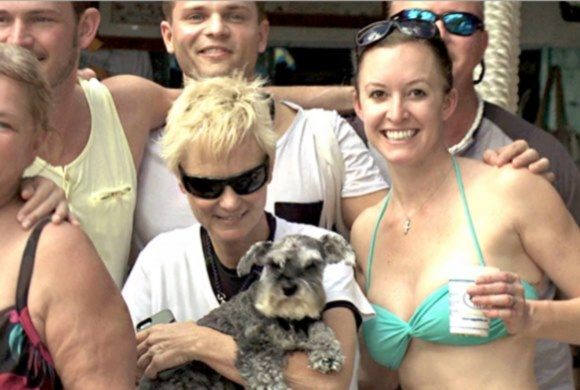 Review: Below Deck, "Strains, Stains and a Big Pain"
(S0206) In this week's edition of the Below Deck saga, we get a pair of will-they-won't-they's. Off the Ohana for a brief respite before the next charter at the classily named Peg Leg's joint, we have more of the aftermath of Kelley "surprise kissing" Jennice. Where once they were platonic besties, the pair – who both have significant others back on the mainland – have reverted into awkward teenage territory, Kelley confused by the mixed signals he perceives while Jennice laments that she just wants to "bury the kiss hatchet."
Meanwhile back on board we have Kat and Ben. While the two – who both also have relationships that they've put on hold for work – hooked up last season, they maintained a flirty but professional-ish relationship during Season Two to date. Kat for her part has even managed to largely reign in her drunken party rage ways during Season Two (even mostly leaving the hilarious I-have-an-English-accent-when-I-drink thing behind, sadly). "Ultimately everyone wants what they can't have," Ben wisely announces. However, it's strongly implied – perhaps due to heavy-handed unscripted editing – that they are kissing (and making loud noises behind closed doors) but not precisely telling as yet.
You know the drama is relatively light when the main issue that occurs with the arrival of the charter guests is a stain on a decorative pillow (seahorses, yeah!) on one of the guest's beds. "There's no such a thing as a good stain… this is what happens at a low class motel, not a yacht," Kate says. I get that at something like $100,000 to charter one of these super yachts that everything better be close to pretty damned perfect, for a super trash reality show like Below Deck (and I write those words with the utmost commitment of love in my heart, truly) it doesn't quite meet my spoiled expectations.
Jennice and Kelley eventually have a heart-to-heart that doesn't go so steamy hot. Jennice expresses concern with Kelly's anger issues, whereupon the former Marine cuts the conversation short, saying, "We're good," and walks off. Good tactics but bad strategy, me thinks. But the most fascinating thing about this entire storyline is that both parties seem to treat their significant others back home as semi-optional.
Kate and Ben get into over the timing of dinner service later on, but I grew vaguely bored at the prospect of figuring out what was going on there.
Whereas the most involving and funniest episodes of Below Deck (and the best episodes tend to be both at once) focus on either sociopath-level charter guests or a major incident, accident, or major no no tying to one of the crew, "Strains, Stains and a Big Pain" had relatively little of the involving or the funny.
The entire episode in fact felt like one long teaser leading up to the final scene, in which the crew stumbles across Adrienne at the Soggy Dollar Bar.