Obviously, some people are going to scream and hiss and moan at this selection, but hear me out, I beg of thee.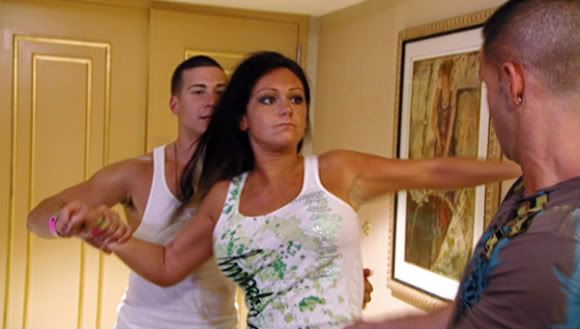 For me, it's a no brainer: Jersey Shore is hideously, gloriously, and ridiculously entertaining. I find myself laughing more during a typical episode than I do with almost any show on television, and throw the top comedies into the mix.
Here's the key to understanding how to enjoy Jersey Shore, I dare say: it's okay to laugh both with and at the show and its participants at the same time. Perhaps it helps that I grew up near the part of the world – Long Island, New York to be exact – that the show takes its name from (none of the cast members are from Jersey, ironically) and around the culture that is celebrated at Mach 5 (to quote Darryl from an old episode of The Office) levels.
For those few lonely souls who have no idea what Jersey Shore is, here's the set-up: it's about a group of Italian American twentysomethings culled from around the northeast who live in a house, work, and party while the cameras roll. That's it, really. It's a testament to the casting that, even with the skyrocketing fame of the talent, this is a gang that parties, fights, hooks up, and jokes around engagingly enough to put multiple seasons of material into the can.
Now, I get that Jersey Shore isn't for everyone. Some people hold their noses up at any kind of reality programming and, hell, some people hold their noses up at television in general (I hold my nose up right back as I hold my head up high, but that's a different conversation that I won't get into right now). But I'd wager that most people who claim to hate on Jersey Shore have not taken a few solid and solemn and serious moments out to take in the show and to actually develop an informed opinion.
In its second season, the action moves from the boardwalks of Jersey to Miami Beach. Drama reigned early and often as Ronnie and Sammi continued their self-destructive train wreck of a relationship, which includes multiple episodes where Ronnie leaves Sammi – whom he has sort of just gotten back together with – back at the crib while he proceeds to get dangerously drunk and engage in three-way kissing and other adventures in Miami Beach (with The Situation positioning himself perfectly in the foreground so he can gawk and wince appropriately). And meanwhile, Angelina, the Staten Island girl who had bailed out (garbage bag luggage in hand) during Season One is back… only to leave in tears once again as she manages to intuitively make everyone in the house hate her (even more).
Meanwhile, The Situation, Pauly D, and Vinnie – who dubbed themselves MVP in honor of Mike (The Situation), Vinnie, and Pauly – concentrated on what they do best: wise-cracking, GTL-ing (gym, tanning, laundry), and particularly setting up their lives so that they might successfully convert DTF ladies at the club (I'll let you figure out what that one means). And that leaves Jenni (or JWoww to her friends) and Snooki, who spent most of the season dealing with Sammi's wrath for deigning to produce a ludicrously anonymous letter that detailed Ronnie's exploits while Sammi sulked at the condo.
More than anything it's the banter that keeps me coming back. For example, we get "sage" advice from Angelina's friend Gina, who tells the latter, "If you want to f--- ten guys in one day, you can, that's your f---king business." And then there's The Situation, who deadpans with regard to Angelina's broken bed, "Yo, she's so fake dog, she broke the bed, dog." And while we get plenty of flat out brawls (often between the ladies of the house), it's the post-fight analysis that is what really counts. For example, Ronnie notes that Snooki's "Tyrannosaurus Rex"-like arms are not able to have a full boxing-style "reach" when fighting Angelina.
If that kind of thing tickles your funny bone in the slightest, then you need to get over yourself and societal decrees and pull up a chair (I prefer a beanbag that's close to a barrel of corn chips and Brand X soda) to check out what's new at the Shore.
Jersey Shore's third season premieres Thursday, January 6th at 10:00 on MTV.
Video: Best TV Shows 2010: Jersey Shore
Check out this MVP-approved promo of Season Three, via MTV: