As amazing as Mad Men has been, is, and no doubt will continue to be – and never more so than in its dark, "radical," and scintillating fourth season – I seriously needed a mental break from it after writing the final words of my review of "Tomorrowland," the Season Four finale.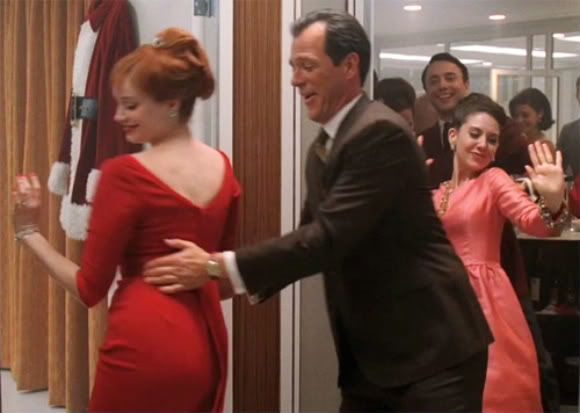 Looking back now some two and a half months later, I think it's because I had experienced similar feelings as after reading a vast and thoroughly involving novel. As many others have noted, Mad Men is a show that "dares" to treat us like adults, challenging us to interpret body language and expressions and thoughts left unsaid (the latter always a rarity on television). Because Matthew Weiner and crew execute their vision so well – deeply complicated and flawed souls searching for the myth of the American Dream amidst a mid-century New York City in decline – we viewers who invest in Mad Men are richly rewarded.
So that's to say that I think I was exhausted after journeying with a show that risked more than it ever had before, shattering the relative stability that both Don Draper (Jon Hamm) and the audience had come to expect. The Company Man approach to corporate life, backroom deals and bourbon-drenched handshakes, a wife and kids at home that might be dusted off and trotted out like dog and ponies when needed, the safe numb haven of booze as the sun begins its descent. All ripped violently away from Don as his new and fragile advertising firm pushed off from the shore with wife Betty (January Jones) and kids left on land (well, the Draper residence with new husband Henry to be precise) along with so much of what made the show groove and tick during its first three seasons.
The result was a drama that surprised more, shocked more, wrenched your heart out more, went to darker places and even so managed to make us laugh more than it ever had before. Not bad for a fourth season of what is already very clearly one of the all time best shows to grace the small screen.
The first few episodes ("Public Relations" and "Christmas Comes But Once a Year") focused on Don's new and lonely life in a dimly lit apartment in the West Village and the struggles of the new Sterling Cooper Draper Pryce. They also established the theme of a Don who is more "free" from of his secrets than ever before, with the ironic consequence that he doesn't really know who to be without the sword and shield of Don Draper to hide behind.
The third episode of Mad Men seasons are often classics (see: "My Old Kentucky Home" in Season Three) and "The Good News" is no different. Don heads to California on the way to a holiday vacation in exile, but instead learns that Anna will soon die and his descent into deep depression and the worst ravages of alcoholism begins. What's so amazing about the episode is how damned funny the second half is: what should be terribly sad and bleak becomes hilarious as a drunken Don and Lane (Jared Harris) romp through a blur of late night downtown New York nightlife scenes. It's to the tremendous credit of everyone involved, and especially Hamm and Harris, that they are able to pull off this astonishing feat.
After perhaps the darkest set of episodes that Mad Men has ever strung together, "The Suitcase" (which I sadly was unable to review) becomes Don's Waterloo of sorts as he hits rock bottom on the night that Anna dies amidst an ad campaign for Samsonite that's being worked on. It's an incredible showcase for Hamm again, this time with Elisabeth Moss, who plays Peggy Olson. Don and Peggy of course have had a complex and wholly original relationship dating back to the pilot, and here we see Peggy seeing a side of Don that she never has before. At the close of the episode we get the sense that there is finally some hope, some ray of light, on the horizon for Don.
That hope has some legs, it would seem, as Don finally (for the first time?) makes an attempt to get his drinking under control in "The Summer Man." And the best thing of all is that Don has found what appears to be his ideal mate – the smart, sophisticated, career-minded, and beautiful (of course) Faye Miller (Cara Buono).
There's so much more to recount of course even through this point in the season – Roger and Joan, Sally Draper's adventures in Ossining, Pete and Lane, Lucky Strike, the new guys at the office (including Miss Blankenship, RIP), members of the old gang returning (Freddie, Ken, and Duck, Midge, and Smitty if but briefly). But I must press on and jump ahead to the end run of the season, where we have Don pulling off a desperate move (taking out a full page ad in The New York Times announcing a commitment to stop advertising on behalf of tobacco companies) to try and save SCDP in the wake Lucky Strike's departure (that Lee Garner, Jr. always was such a gent, right Sal?).
Whereas in past seasons we've been "trained" to wait for Don's heroic action that will come in and save the day, Season Four has other tidings to bring us. The firm freaks out, Bert Cooper quits (perhaps for good… but we must have more Robert Morse!), and Don is in the Dog House in a big time way.
So after all of that, after Don has made some strides to be a better person, a better ad executive, even a better father as his brave new amalgam of Don Draper and Dick Whitman takes form, what does he do next? Does he marry Faye – a woman who knows more about him than anyone save the departed Anna, a woman who challenges him yet is nurturing and sympathetic to his traumatic upbringing and vulnerabilities (and liabilities)?
No. He casts her aside for the new fantasy, the new identity, the new Don Draper: American Man uniform. He becomes engaged to his secretary (Allison must have been the trial run as it turns out), Megan (Jessica Pare), a young and innocent girl (and employee) whom he barely knows.
So once again as we enter the long off-season we're poised at a juncture where Mad Men can take us in any number of new directions. Anything can happen. We know this because it already has.
I find myself getting antsy for Season Five to begin already.
Video: Best TV Shows 2010: Mad Men
Check out the always great AMC "inside" take on "Tomorrowland":