It just today occurred to me that you can make a pretty clear if odd comparison of Better Call Saul (Season 2 premieres tonight, Monday, February 15th, at 10:00/9:00c on AMC) to the three Star Wars "prequel films" (that'd be Episodes 1-3: The Phantom Menace, Attack of the Clones, and Revenge of the Sith). In the case of both Better Call Saul and the "original" Star Wars series (that'd be Episodes 4-6: A New Hope, The Empire Strikes Back, Return of the Jedi) you have a beloved franchise in which the attempt to add new prequel material was met with anticipation and trepidation in equal measure. We all know how it went with Star Wars (see: Jar Jar), and that places the wild success of Better Call Saul Season 1 in an even more extraordinary light.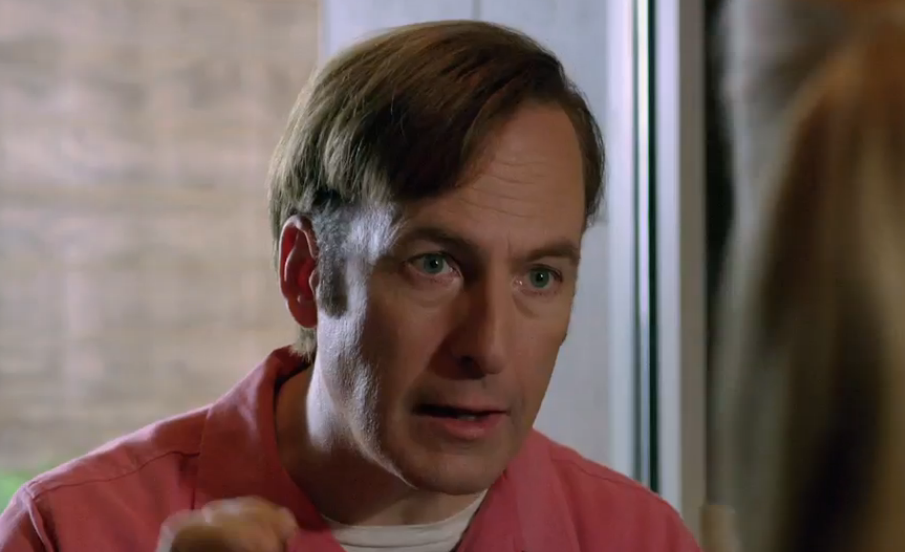 In both franchise's "prequel runs," you basically have the story of two men who go on to be known by a different name (Jimmy McGill/Saul Goodman, Anakin Skywalker/Darth Vader) who face a series of crossroads and eventually choose, in relative terms, the "dark side" (while Jimmy/Saul never get up the Planet Killin' Spree-style that Darth Vader eventually hits, he aids and abets some truly shady figures at his career peek, including a chilling and evil figure who also ends up going by a different moniker in certain circles: Heisenberg).
Better Call Saul already operates in its own fully formed ecosystem that works wonderfully if you've never heard the name Walter "I Am the One Who Knocks" White but ties into and extends the legacy of the Breaking Bad-verse. In other words, Vince Gilligan and company, already sitting high on the charts of all time TV producers, is killing it once again with Better Call Saul.
"I've been doing the right thing all these years now," Jimmy McGill AKA Saul Goodman circa the Breaking Bad years says in the Better Call Saul Season 2 trailer, putting "right thing" in air quotes. "And where has it gotten me? Nowhere."
And so it goes for Jimmy/Saul in his years prior to fate bringing him into contact with Walter White and Jesse Pinkman. We're still in the early days of the Saul Goodman origin myth, and praise be for that as we get to both delve into the series of events that precede Saul's entrance onto the stage of Breaking Bad and get to bear witness as actor Bob Odenkirk does simply amazing work as Jimmy/Saul in making him a likable con artist and a conflicted man who sees himself as someone who has tried and tried to gain respect and success doing things the "right way" and is learning that he has a remarkable set of skills... should he choose to continue to stepping over the line into the "wrong way."
In this look further inside of Better Call Saul Season 2, series creator and show runner Vince Gilligan teases us by asking, "Is Saul Goodman Jimmy McGill's true nature? It remains to be seen."
And here's a fun little teaser trailer for all y'all Better Call Saul super fans: