Quick Take: Big Easy Brides, "Trailer Park Romance"
The French Quarter Wedding Chapel does New Orleans no favors in the new reality show.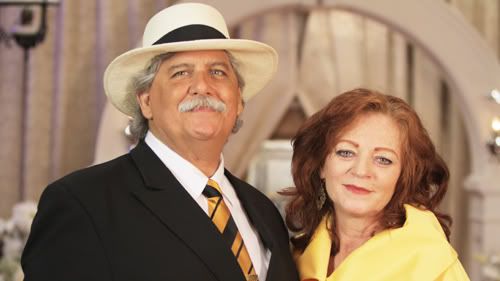 Review: Big Easy Brides, "Trailer Park Romance"
(S0101) As if New Orleans hasn't experienced enough pain in the last few years, now they have to suffer with the new WE reality show Big Easy Brides acting as a broke-ass ambassador for their fair city. Listen, I have no snobbery about shows that focus on low class subjects or train wreck personalities. I like a guilty pleasure as much as the next person, but what I do take to task are reality shows that are so orchestrated and over produced that you feel like you're being had like a chump every second you watch. It only takes two minutes of viewing this show to sniff out that Big Easy Brides was packaged by someone in development who thought his great local NoLa haunt run by "wacky" personalities that attracts equally goofball clientele would be reality show gold.
The only problem is that every single person that works for the French Quarter Wedding Chapel in New Orleans has no inherent personality. They aren't kooky or wacky or even just big and loud for that matter. Everything that comes out of the core cast's mouths in the first episode -- be it the fly-on-the-wall scenes or the camera confessionals -- is clearly coached and/or practiced dialogue. It's like watching a bad high school drama class with sets just about as gaudy and cheap.
The main players are Reverend Tony Talavera and his wife Lou Ann who own the 24/7 French Quarter wedding chapel. They run a full service chapel that provides nuptials for as low as $400 and up to whatever the bride and groom can imagine. However, their chapel is barely a step above Vegas class just with more chandeliers and fussy chotchkies. You're never going to see a Trump wandering in any time soon.
Working the weddings are their staff consisting of: Maria the bleary-eyed wedding coordinator, Dana the music director, Gino the garble-mouthed security muscle, and by episodes end, Mia the pin-up styled staff photographer.
Except for Gino, none of these people have a real schtick so the Talaveras and the producers work overtime to create drama for the camera. Maria is painted as the bitchy, boozy diva who loves to party with the clients and hates any other gal that infringes on her domain. She goes after Mia ostensibly because Tony and Lou Ann didn't invite her to be part of the hiring process, but the anger quickly just devolves into Maria meanly announcing that Mia is lame because she's a self taught photographer. However, Maria sells the rant so poorly that even the viewer doesn't buy the canned bitchiness or the faux cat-fights that ensue between them over a trailer park bride's makeup and hair.
Even the bridal parties stink of set up. The episode features four attempted or completed weddings with the focus being Selena and Bobby, the trailer park couple wedding after five years together.
The first couple is Veronica and Luke who seem perfect for each other until we find out his mother refuses to attend the ceremony. As they start the ceremony, guess what? Momma shows up at exactly the right second with a thrown open door and objects to the wedding with her kung-fu fists. Turns out the couple are second cousins – dun, dun, DUN! However, that family connection is allowed by law. Can you see my eyes rolling?
Damien and Biba are next and they like to party so they have a pub crawl wedding where Tony does a section of the wedding ceremony on the stoops of different Bourbon Street bars. You can guess where this is going, right? Biba gets tanked and proceeds to vomit on the shoes of a volatile gay man walking by and then it's fists a'flying again. I know that when I vomit spontaneously it's always on the shoes of someone with the exact temperament needed to make a good reality TV moment.
Lastly there's Michael and Jasmine, a drunk couple that demand a wedding at two in the morning. Jasmine turns out to be the jealous kind when Maria feels up the groom's 12-pack abs (you know, because that's what coordinators do in a reputable business) and then fists are flying again! Gino bounces them around and no wedding is performed after Tony asks them if they've been drinking. You think, Tony?
Lastly, Selena (who looks like she has a rough 10 years on her man) and Bobby let Maria decorate their front yard with lawn chairs and baby pools so the trailer trash motif is complete. But the fun is ruined when the landlord bans any liquor from the ceremony which causes a massive exodus of guests. Selena is devastated (but oddly not as much as she should be about the mini hat on her head) until Tony talks them into making the ceremony just about their love. That lasts until people sneak a keg on property for the reception. Charming.
If there was a single shred of reality in this reality show, the life inside a wedding chapel might have made a great premise…just not with this group of forced misfits.