Quick Take: Big Shrimpin', "Episode 1"
"This is how we shrimp in America."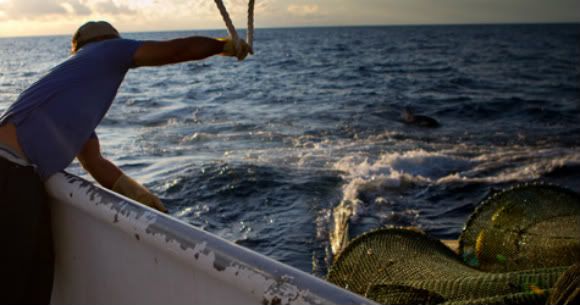 Review: Big Shrimpin', "Episode 1"
(S0101) They will honestly make a show about hunting anything: musical talent, crabs, fish, shrimp, large fish, boars, alligators, hoggers, etc. Shrimp though, as popular as it is, seems like something that should have happened a while ago. It's only logical to make a show about a food that most people have a distinct knowledge of. In any case, here's how this big shrimpin', wave pimpin', boat tippin' adventure went down.
Like most shows that focus on people going out and gathering stuff we have a few different teams heading into the waters to reap nature's bountiful harvest. Hailing from Alabama, these fishermen work for a seafood company owned by Dominic Ficarino that's staying afloat even in these harsh, oil latent times. I must say, that not since Forrest survived that hurricane with Bubba have I found the shrimpin' experience to feel so epic. It's to be expected I suppose, since shows like this (Ice Road Truckers, Ax Men, Deadliest Catch) can make a falling log or and ice slick feel like I'm performing surgery or disarming a bomb.
We have the Miss Hanna Crew, lead by Captain Charles "Redbone." All right, I'm not going to lie, when I heard the name Captain Redbone I thought that was pretty awesome. Curse you History Channel for already making this more epic than it should be. He also has a deck hand with the unfortunate nick name of Chad "Pecker Head."
Also joining the fray is the Miss Barbara Crew, lead by the fearless Captain Jeremy Schjott "Bull Frog." Being the youngest captain in the fleet seems to make him the practical joker and very cocky. You have to watch out for those cocky, head strong, shrimp captains. He's also a former deck hand for the legendary Captain Redbone, how the plot thickens.
Since The History Channel never skimps on the shrimp, we have one more crew entering the waters. The Miss Ashleigh Crew, lead by Captain Roy Wilkerson "Roundhead". Roy seems like the "comeback kid" type of character. A grizzled veteran of the shrimpin' industry, who has fallen on some bad luck, however, he's back with a vengeance and something to prove. He craves only two commodities, ultimate victory and shrimp. That's not a quote from the series, but I thought it would lend well to overall epic-ness. Roy's son also works on his boat and I can see them clashing a lot and creating some memorable moments for the series.
The focus of the first episode is the seven day voyage to the Texas coast line, where the boats will start a limited season to catch larger shrimp. Facing numerous challenges including: hurt deck hands, inspections, and damaged gear they persevere towards the shrimpin' promised lands. With the unprecedented bad weather over the past few years, combined with the BP oil spill, most of the shrimpers feel that their jobs are on the line. So, they need this season (and The History Channel's money) to beat the odds and continue their way of life. I also learned this episode that if you mess with endangered sea turtles, the government will shut your shrimpin' ass down. On the plus side, I always appreciate accents so thick that it requires subtitles to understand what they are saying. In addition, the "bleeps" within the subtitles for cuss words amuse me far more than they should.
So there you have it. Three teams bravely facing the worst the gulf can dish up, in hopes of bringing home a shrimpin' bounty fit for the gods. As with most shows in this category (Reality Workforce) it's the people that are the driving force behind the enjoyment. Their stories craft the experience and keep us coming back for more. I have no doubt, that these ragtag groups of shrimpers will warm your hearts and place DVD box sets onto next years holiday wish lists.