One of the oldest games that kids love to play is some version of "treasure hunt," and of course there's a rich history of literature and film (and, now, television with shows like Black Sails) that at their core boil down to a story that's about "X marks the spot."
Billion Dollar Wreck, which premieres on Monday, February 8th, 2016 at 10:00/9:00c on the History Channel, is a reality show that essentially boils down to a story that's about "X marks the spot," but for real-skies. Here's the trailer:
Everyone's heard of the Titanic and its tragic tale of opulent seaborne luxury run astray into an iceberg on the open Atlantic seas. By comparison, no one has heard of the R.M.S. Republic, which departed New York harbor under the captaincy of a Mr. Selby in 1909, never to return. Like the Titanic, it was a ship that no one thought could sink, and was in fact known as The Millionaire's Ship due its luxurious accommodations and, we'd figure, the super rich dudes and dudettes who liked to get their ocean ride on in that level of style. After a little -- or not so little, actually -- direct collision with the SS Florida, however, the Republic was no more.
Ah, but there's the not so little matter of all of the mythologized treasure on board that went down into the salt watery depths. Newspaper reports at the time relayed that the Republic held an enormous fortune on board -- 150,000 American Eagle gold coins, in fact, which equate to more than a whopping $1 billion in modern terms.
And so it makes sense that over the last 75 years lots of people have tried, and failed, to go after the loot.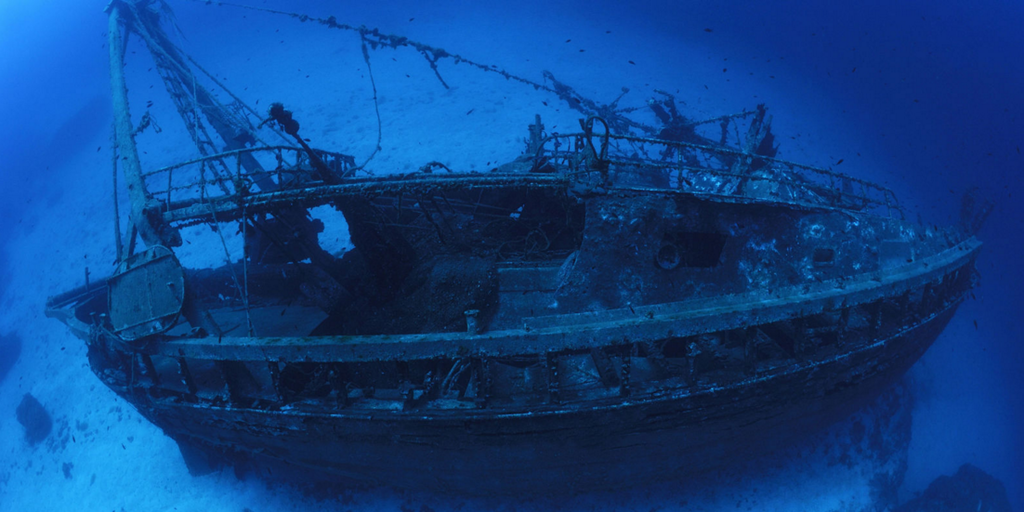 Enter Martin Bayerle, who has been obsessed with the Republic and its treasures for the last 35 years. Now, I must make mention of something that's both hard to make up and yet unbelievably appropriate: Martin Bayerle wears an eye patch.
Billion Dollar Wreck picks up the story of the hunt for the Republic's treasure by following Martin Bayerle and his son Grant in their pursuit of greatness... or at least a tonnage of sunken gold. Part treasure hunt, part "dad and his son try to bond while being off on an ill begotten and possibly super unhealthy in terms of mental and physical fitness adventure meets misadventure," Billion Dollar Wreck does seem like it has potential for drama of the semi-interesting History Channel reality television sort.
Or... it could be really boring as we watch a couple of dudes roll around the open ocean not finding anything.
I suppose we'll see!