It's something we almost take for granted now, but it's fascinating to take a step back once in a while and look at how quickly "significant" events that take place on television take on a life of their own on the Internet.
Live television events with large audiences – like last night's second presidential debate – are fertile ground for this phenomenon.
Republican nominee Mitt Romney, a master of the awkward and slightly robotic turn of phrase, provided a jewel for web enthusiasts last night by referring to "binders full of women" while seeking to hire a diverse gubernatorial staff in Massachusetts.
Binders full of women falls nicely into a Romney awkward phrase… well, binder, that includes talking about how the trees "are the right height" in his home state of Michigan, how people use "aircraft" to travel from one place to another, and how when uninsured people have medical emergencies, ambulances are happy to rush down to their "apartments."
As you might imagine, the webs were all over this one.
There's Tumblr – note the sweet Trapper Keeper:
Twitter: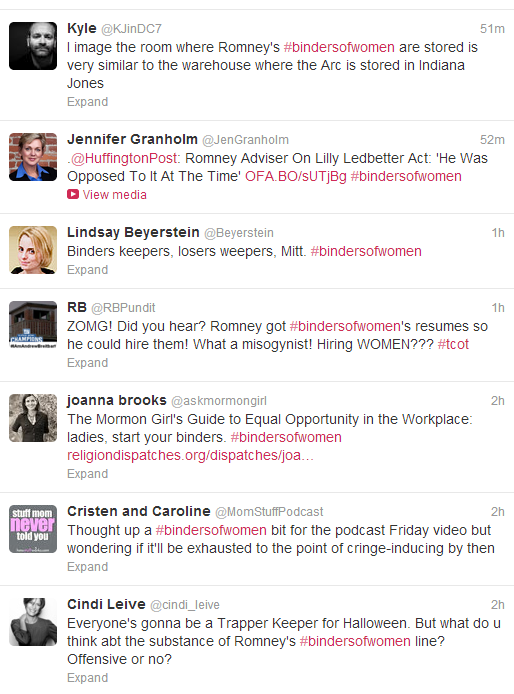 Note that while many are using the occasion to take Romney to task for his refusal to support the Lilly Ledbetter Act – such as former Michigan Governor Jennifer Granholm – there are others using the same hashtag, #bindersofwomen, to push back. @RBPundit, for example, sarcastically calls Romney a "misogynist" for hiring women.
Just to round things out, here's Facebook: