Channeling his inner Andy Samberg Captain Flint (Toby Stephens) acts like a boss in this Black Sails Season 3 trailer:
A pirate boss, that is, and one who isn't planning to be messed with this coming season (premieres Saturday, January 23rd, 2016 at 9:00/8:00c on Starz).
Black Sails Season 3 takes place twenty years before the events of Treasure Island, the classic novel of pirates and adventure and lore by Robert Louis Stevenson. But what I'm excited about most is that the theme of Season 3 is that Captain Flint will be crossing back over into that wild-eyed state of near madness in the wake of the burning of Charles Town at the end of Season 2.
The final sequence of the Black Sails pilot episode was one of the more delightfully deranged pieces of television I've seen in recent years. It showcased an obsessed-looking Captain Flint, literally bloody after securing his position aboard his ship via mortal combat. The camera angle was askew, and the madness and greed and ambition in Toby Stephens' eyes was absolutely wonderful. There was a Stanley Kubrick quality to the direction and a Captain Ahab going after his personal Moby Dick whale quality overall. It was the moment that really hooked me on a new show, and I'm very anxious to see where Captain Flint's head is at circa Season 3 after all of the trials and tribulations we've seen him endure to date.
And meanwhile back in Nassau, Jack Rackham (Toby Schmitz) is now high man on the pirate totem pole. In my book. The Adventures of Jack Rackham (or perhaps The Wacky Misadentures of Jack Rackham would be more apt?) could easily be a spin-off show. It's always great to get a break from other action and machinations on Black Sails to check in with Rackham, who is very bright and very rational and very pragmatic -- qualities that very few characters around him possess around him.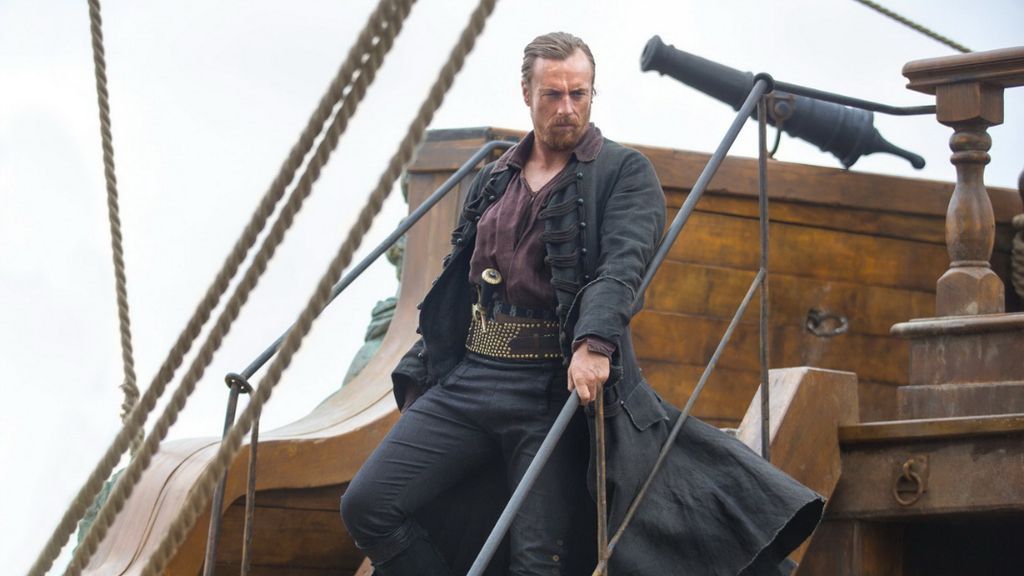 With a large and colorful cast of characters, there's obviously so much more to come. Will John Silver's (Luke Arnold) allegiance to Flint endure? Will Eleanor Guthrie (Hannah New) find a way to renew her own Captain Ahab-like quest to establish a thriving trade hub in Nassau? And I don't even need to ask a question here: we know Charles Vane (Zach McGowan) will continue his own personal Pirate Anarchist Revolution in some new and wild form.
And then what of the new members of the cast, wildcards deployed onto an already rollicking deck? In Black Sails Season 3, we'll see Ray Stevenson (from Rome and Insurgent) as pirate legend Blackbeard as Luke Roberts (seen recently on Wolf Hall) joins as Woodes Rogers.
Also, great news for Black Sails the seas wide: it's already been picked up for a Season 4.