Created by Cath Staincliffe, Blue Murder is a British police procedural starring Caroline Quentin as Janine Lewis of the Manchester police. In the opening moments of the first of two episodes that make up Series 1, she is promoted to Detective Chief Inspector and rushes home to celebrate the good news with her husband Pete, who she finds in bed with another woman. To further complicate matters, Caroline is expecting their fourth child, but winds up doing so as a single parent and must do her best to juggle work and home life.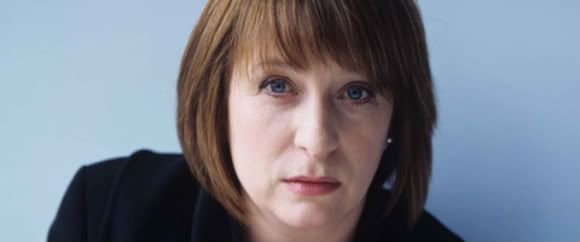 Most of the mysteries seem original and are well plotted. The one that was a little familiar is "Fragile Relations" from Series 2. Janine doesn't receive any help from the Muslim community while investigating the murder of a mullah and this immediately brought to mind Prime Suspect 2 when DCI Jane Tennison (Helen Mirren) didn't receive any help with the inhabitants of an Afro-Caribbean neighborhood.
The Complete Collection contains all five series that aired on ITV for a total of 19 episodes from May 2003 to October 2009. I'm not sure if the producers expected the program to end when it did, but there's no grand finale like some shows get. On the DVDs, Series 5 is presented out of the order it aired. Bonus features include "Blue Murder: Behind the Scenes" (46 min), created during Series 4, and text interviews with actors Quentin and Ian Kelsey (DI Richard Mayne).
What makes Blue Murder different from other cop shows is Janine's family-life scenarios. Her eldest son runs into trouble with the law a few times, and not only is her ex-husband not very supportive, but he ends up leaving for Spain by the last series, which naturally doesn't go over well with the kids. This aspect is likely what will make or break the program for viewers, which I expect will do better with women.