Quick Take: Boardwalk Empire, "Battle of the Century"
"We copacetic now?" – Chalky White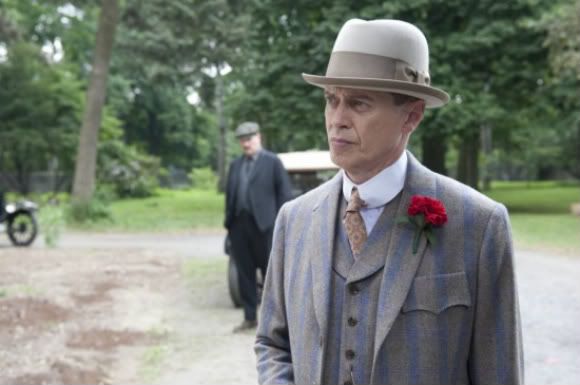 Review: Boardwalk Empire, "Battle of the Century"
(S0209) Familial themes are finally wearing thin and with only three episodes until the Boardwalk Empire season finale I'm ready for a change of tone and fast.
We've all enjoyed Dexter, Walter White, and Homer Simpson well enough to know that TV protagonists, especially anti-heroes, don't by any means need to have a traditionally noble cause, but I'm growing weary of both Jimmy's and Nucky's pure power-mongering. With the plethora of hints offered in some of this season's most exhilarating episodes, I can't imagine that it will end without some tangible indication of what these two are really after.
Forgive me for the endless comparisons to The Sopranos. I know it's not fair but it does make for illuminating contrast. We relished in the sex, violence, and intricate character backgrounds, but it was really Tony's grief, anxiety, and overall emotional turmoil that kept The Sopranos ticking for six beautiful seasons. We've seen these sentiments richly portrayed by Boardwalk's supporting characters this season but surely the two leading men, having suffered the loss of loved ones and the brutality of war, also have deeper levels to offer.
Alas, we must save some for seasons to come and in the meantime the IRA and working class black community prompted some good 'ole good against evil applause. At the outset of the season, Nucky's false support for both the blacks and the Klan was pretty disturbing. With his blatant disappointment in John McGarrigle's decreased appetite for war, it's nice to see that at least some good will result from Nucky's ruthlessness. The civil rights strike is definitely something to look forward to, even if it was sordid motivations that set it in motion. Here's to hoping that the What does the bee do? glimpse into Chalky White's shame and suppressed cultural pride will soon come to manifest.
The well illustrated historical references continue to fuel the show's success. A quick Google search did not lead to any substantial link between bootlegging and the civil rights movement but it is interesting that McGarrigle's character could be based on real life Irish nationalist, Seán McGarry. I'm not sure how tall he was but he was a supporter of the proposed treaty with the English and he did lose a son over his role in the rebellion. That rearview shot of his cold-blooded assassination was truly epic. And just when you think Nucky's going to question Owen over his loyalty, he simply states that he doesn't like secrets.
Burning Question: More power, more problems – is that seriously the overarching point of this show?
Cheap Shot: A child's porcelain-faced doll slowly burning in flames
Oh Yes: "Fresh Killed Meat" sign behind Manny in his post homicide close up