Quick Take: Boardwalk Empire, "The Age of Reason"
"We all got our rules, unless you feel squeamish." - Manny Horwitz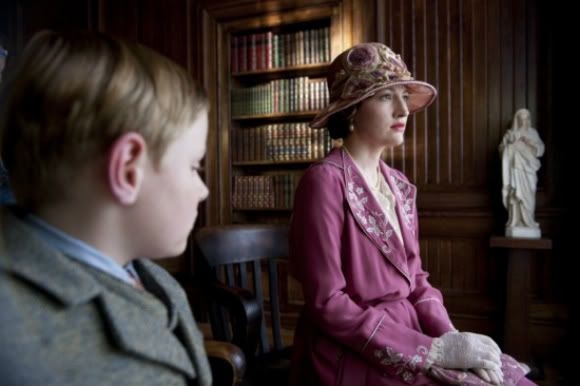 Review: Boardwalk Empire, "The Age of Reason"
(S0207) Taking its cue from Thomas Paine's rebellious 18th century pamphlet, this episode of Boardwalk Empire is rife with religious undertones. And of course you can't have religious critique without bringing hypocrisy onto the table.
Agent Nelson Van Alden returns to the forefront with a further examination of his losing battle against his own religious fervor. Nelson struggles with confessing his sins at the hospital where he's found visiting the badly burned officer who looks decidedly more "comfortable" than his mistress Lucy who's left on her own to answer her "charge from god" to have Nelson's baby. The second time Nelson says "I'll get a doctor," it seems as if he'll be absolved by the birth of his daughter rather than persecuted by the testimony of his fallen comrade. But his reckoning finally arrives along with his wife and he's forced to confess at least one of his sins face to face.
Margaret, one of the show's most intriguing characters, keeps us wondering what the source of her motivation -- or shall we say toleration -- really is. After spending a whole forty minutes wondering which of many sins she'll opt to confess, it turns out the only thing she feels squeamish about is her crush on Owen Slater. The sexual tension between these two is clearly heating up and he all but propositions her after sweeping up her cornflakes. Her attraction to him is explained dead-on by Mark D Curran.
"How Catholic are you?" is a question that gets asked all too often after a round of premarital sex and though it seems Margaret is still a loyal partner, faithful is another thing. Her faith in Nucky has been teetering throughout the series and he better get his bedroom act together or Margaret will have her own little Irish rebellion with Owen.
The bizarre sexual overtones of Jimmy's mother Gill also reappear this episode and one can only hope that he'll find more level-headed mentoring in the chops-clad Uncle Jun and Manny Horwitz.
Hypocrisy is a common character in a show about politics and was cleverly illustrated during the scene that has Manny hand Jimmy his butcher's knife. The cold-blooded shochet is simply worried about keeping the meat kosher, explaining that since his victim's been injured he is no longer "treif," Yiddish for clean and ready to be slaughtered. A test of faith that producer Terence Winter describes as a "mind-fuck" and Jimmy Darmody reluctantly aces.
The episode concludes with another beautiful punch line. A photographer looks through his lens at an upside down image of a young robe-clad boy. The boy's unwed role models look on proudly and the flash from the photo documenting this rite of passage disintegrates in a cloud of smoke.