Quick Take: Boardwalk Empire, "Under God's Power She Flourishes"
"I'm just the loneliest person on Earth." - Gillian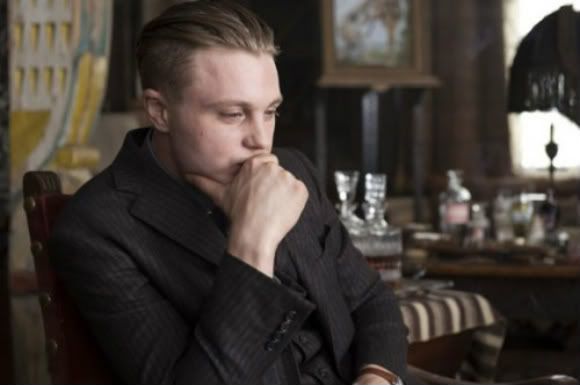 Review: Boardwalk Empire, "Under God's Power She Flourishes"
(S0211) Is it sick to say this is the moment I've been waiting for? Jimmy's brute gangster side has been featured prominently this season and now we finally know what's really driving his seemingly aimless lust for power.
The truth is incest makes for damn good fiction. From 17th century Jacobean tragedies to 1990s Twin Peaks and modern day Game of Thrones, utilizing the dark seduction of incest is a sure fire way to thicken plotlines. Boardwalk Empire's Oedipal scene will undoubtedly be highlighted as one of the small screen's most affecting.
Writer Howard Korder doesn't usually support the idea of flashbacks but this one was crucial. Until now we could not be sure whether it was post-traumatic stress, pure disdain for Nucky or the pressure of having a young family fueling Jimmy's emotional and professional volatility. We never really knew just what happened at Princeton. Witnessing the genetic debauchery that Jimmy is up against will make it possible to root for him again.
Some may see Gillian as a casualty of corruption and indeed she's had her own battles to fight. Certainly being raped and impregnated as an underage teen by the city's most powerful man can have a psychological ripple effect, but I would argue that not only the death of the Commodore but even the end of Nucky's reign can be attributed to Gillian's self-serving instigations. Her tangible contentment with Angela's murder seals her transition from victim to villain.
We now know that Jimmy will go as far as Gillian pushes (no disgusting wordplay intended) and as season two slows to a halt this homicidal mama's boy will definitely leave me anxious for what's next. I can only hope that in the seasons to come we will finally watch him become a man. But as Gillian continues to weed out contenders for Jimmy's attention, it's the resolution of her smarmy scheming that I'll most look forward to.
Scalpings, butchers and the KKK aside, the shot of Gillian holding her grandson Tommy as she walks upstairs to bed is the most appalling image this season.
Burning Question: Will Jimmy ever truly break Gillian's hold on him?
Cheap Shot: Margaret's daughter struggles in leg braces prompting another church offering.
Oh Yes: Or maybe 'Oh no' this time around: Gillian assuring Jimmy, "It's okay, baby. There's nothing wrong with any of it." Ewww!