Quick Take: Body of Proof, "Pilot"
CSI meets Dr. G.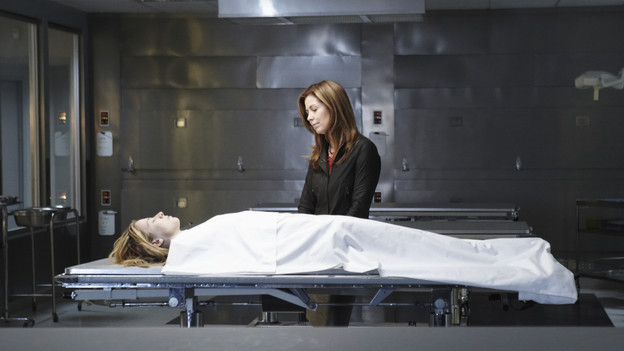 Review: Body of Proof, "Pilot"
(S0101) ABC has dived into the pool by introducing a new show just around the time most shows are wrapping up their season's for a long summer hiatus before fall. The show airs on its current regular schedule of Tuesday nights at 10. However, ABC appears to be doing a mini-blitz -- it aired the pilot on Tueday, March 29 and will air another new episode this Sunday, April 3. yet, it plans to air another new episode on its regular night, as well. So, look for new episodes on April 3rd and April 5th.
The draw to the show for me was the actress Dana Delany who I first saw when she played a nurse in the TV show, "China Beach" which aired 1988-1991. Some viewers may recall her stint in "Desperate Housewives" -- however, as much as I like her as an actress I couldn't stomach DH, so I didn't really catch her on that show but once or twice. Now, in this show she plays Dr. Megan Hunt, a former neurologist who lost her career after a car wreck and killing a patient on the table. She became a medical examiner because "you can't kill someone that's already dead". She seems a little hard but like an onion has some layers. Megan is very good at what she does, her motto, "the body is the evidence" hence the title of the show "Body of Proof". She has an ex-husband, Todd, and a daughter Lacey that lives with her father.
Her parter is a likeable former cop turned medical investigator and he helps Megan on cases. Of course, the writing is on the wall that for anyone paying attention will think 'will they or won't they?' It sort of smells of a "Bones" knock-off in that respect but we'll see how that arc plays out, if it ever does.
The pilot also brought all of the fringe characters into play as well, the supporting cast: Detective Morris and his female partner Dectective Baker (kinda Crockett-Tubbs set-up), Kate, the Chief Medical Examiner, she needs fleshed out more and came off a little bland. Curtis, the Deputy Chief Examiner, is funny and complains that no one calls him "Doctor" although he is one, too. Then there is Ethan who is also a medical examiner but clearly green behind the ears and comes to Megan for help and medical advice, but their relationship sort of feels like the team that works for "House" and how they come to him as if he's a font of knowledge. Hopefully, they tweak that relationship and make it more fresh and original.
The plot of the pilot centers around a female lawyer being fished out of the river -- she shows signs of a head injury and Dr. Hunt examines her and even goes with the police to question potential suspects. She forces her opinion and questions into the interrogations which makes Detective Morris irritated and he shows it. Now, here's the tihing I have to give the pilot kudos for -- the actual cause of death and who caused it was a both creative and unexpected. I won't spoil it for you, so if you didn't see the pilot then go here to watch ABC's Body of Proof.
Now, with that said, this show has the potential to make it but will ABC give it the time to find it's footing and flesh itself out or will it die upon the TV funeral pyre? Time will tell. One major problem they will have to work hard to overcome is 'Don't be predicatable' the premise is currently set-up that she will always get her man/woman, and that can get boring, so maybe sometimes a victim or two can elude her in finding the gulity party. Also, let her cases continue to have the unique twists that the pilot contained.
Will I watch again, I'll give it a fair shake and we'll see, but for now, I'll stay on the bus for the ride, but no promises I won't pull the emergency stop if it looks like a runaway train headed for Canceledville.