Quick Take: Bored to Death, "Escape from the Dungeon!"
The quirk is there, the chemistry is on point, and if anything we have a more confident and even funnier era of Bored to Death to look forward to.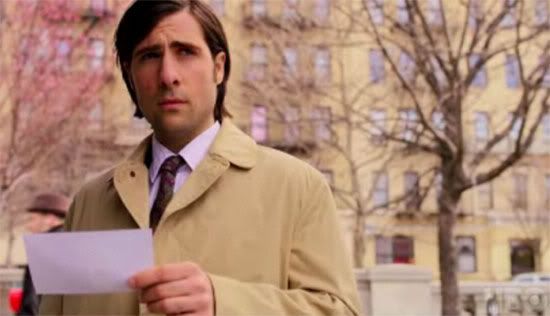 Review: Bored to Death, "Escape from the Dungeon!"
(S0201) The pseudo-noir comedy Bored to Death is back for its second season on HBO and I will say this: the quirk is there, the chemistry is on point, and if anything we have a more confident and funnier era of Jonathan Ames (Jason Schwartzman) and co. adventures to look forward to.
It's hard to pick out the singular moments that make a quirky comedy really shine. I think it's a lot of little things that add up to a greater whole: it's seeing Jonathan's best friend Ray (Zack Galifianakis) holding his pinky out just so while pounding a bottle of beer (and getting tracked down by girlfriend Leah via GPS), it's Jonathan discussing his relative sexual identity issues with a mounted police officer in a stable (who has predilections of his own), and it's George Christopher (Ted Danson) nonchalantly lamenting the changing nature of the publishing industry by deadpanning, "I got a Kindle but I dropped it in the tub."
I would have been more than content with this level of entertainment – pretty much on par with a fine first season – so it was a delirious surprise to have an entire sequence that found Jonathan trapped in an S&M leather gimp outfit running around Manhattan (and, later, George's office where a new regime and prayer circle were just about to be initiated) making a spectacle of himself.
Most of all though I love watching these characters interact with each other. Schwartzman, Galifianakis, and Danson make for a fabulously idiosyncratic New York City trio here, and it's obvious that the writers are looking for as much screen time for all of them as possible. The supporting cast is always uniformly good as well, including the nagging weirdo Leah (Heather Burns) and Jonathan's down to earth (and trees) hippie girlfriend Stella (Jenna Slate). And Kristen Johnston (Sally from 3rd Rock from the Sun) had a fun cameo as the S&M dungeon dominatrix who only selectively listens out for the agreed upon safe word ("Eunuch!").
And it's easy to forget too that as wacko as many of the proceedings on Bored to Death can be, there's some serious-ish issues that our heroes are dealing with. Jonathan's second novel has been rejected, forcing him to teach a night school writing class at PS something-or-other and left wondering if he may have to move back in with his parents (looks like the unlicensed private detective gigs don't pay so well), Leah has left Ray for the moment, and George is fighting to stay relevant in a culture in which he readily admits that no one reads.
More thoughts on the Bored to Death season premiere:
"Hello, Nabakov." – Ray
Just me or is Zack Galifianakis looking noticeable more svelte and a smite bit more hipster this season?
"I just tried on my mom's panties one time when I was sixteen. It felt fine but I never did it again." – Jonathan
One slight quibble: when Jonathan agrees to wipe out the hard drive at the S&M dungeon to protect the identity of the mounted cop, he's not really taking a detective "case" but really is being hired out to commit a crime, right?
Video: Bored to Death, "Escape from the Dungeon!"
Head inside the episode, from HBO:
Recap: Bored to Death, "Escape from the Dungeon!"
Taking time out from his new gig as a night-school fiction-writing teacher, Jonathan is hired by a mounted policeman whose name is on the client list of an S&M dungeon that's about to be busted. Meanwhile, George is flummoxed to learn that his new publisher plans to cut costs on every front, and Ray fails a yoga test with Leah, putting their relationship in final jeopardy.
From Around the Web: Bored to Death, "Escape from the Dungeon!"
Neon Tommy: Even though these are ridiculous characters caught in ridiculous situations, you can't help but like them in all their dysfunctional predicaments.
NY Magazine: Ted Danson's posh, libertine character always seemed to be living in a New York that doesn't quite exist anymore, with long, martini-soaked meetings at Elaine's and an office filled with paintings worth more than most print titles still alive and wheezing.
TV Fanatic: I do have to give props to the writers for having Jonathan stuck inside a locked leather gimp suit. It was pretty hilarious watching him run around Manhattan, as all the New Yorkers and tourists gawked at the unusual sight; then having him barge into an important meeting George was in.