Quick Take: Bored to Death, "The Blonde in the Woods"
"The oysters are kicking in." – George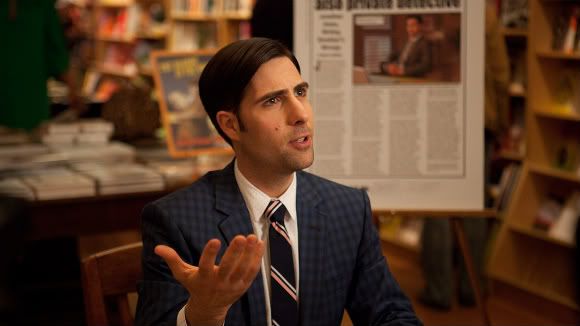 Review: Bored to Death, "The Blonde in the Woods"
(S0301) While on a cross-country flight recently, I decided to check out The Hangover Part II. Part of what made the original film so great was the chemistry between the "wolf pack" trio of Bradley Cooper, Ed Helms, and Zach Galifanakis. While the sequel was largely a disappointment, I always find Galifanakis' other wolf pack – over on Bored to Death with Jason Schwartzman and Ted Danson – worth coming back to.
And if I had one qualm with the third season premiere, it's that the storylines largely kept Jonathan (Schwartzman), George (Danson), and Ray (Galifinakis) separate. There will be payoff to come no doubt as this was a "To Be Continued" episode in true comic-noir form.
Jonathan Ames has completed a new novel, "The Blonde in the Woods," but is still devoted to his sideline gig as a private eye. And indeed his latest case – in which he follows a woman in a yellow hat to a hotel room, only to get knocked out with the idea to frame him for a murder (with his pants around his ankles, a nice touch) – leaves him dangling from the hand of a giant clock, Back to the Future-style, at episode's end. We also learn on route that Jonathan's dad was a sperm donor, another plot set-up no doubt for episodes down the line.
Meanwhile, George has moved on from his magazine to open a restaurant called George on Jane. It's the kind of posh joint that has a policy of no cell phones (though old school land lines will be brought to you in case of emergency), which I find to be delightfully quaint and delightfully snooty at the same time. George reunites with his daughter and finds that her new boyfriend/potential fiancé is a little too "60 is the new 45" for his taste.
And Ray gets to spend time with his son, though he was originally supposed to simply be a sperm donor. The boy's lesbian mom, played by Samantha Bee, has gotten a divorce and therefore Ray has decided to help out. These scenes had less momentum than others, I found, though there were some cute moments. That said, Bored to Death works best when it's surprising and funny versus quirky and cute for its own sake.
A perfect example of the former is when Jonathan is signing copies of his new book and a man orders him to, "Just sign it, kid." Ames literally signs it KID and underlines it for emphasis as a noir-ish theme plays in the background. That's good stuff.
More thoughts on "The Blonde in the Woods":
"Oh, I thought he was just being self-destructive." – George on Jonathan's magician/knife bit
Love that Ray's apartment has a) an old library card catalog cabinet in which b) a bottle of whiskey is housed in one of its drawers.
"The oysters are kicking in." – George
"I guess I've become a real Park Slope mom." – Ray
It's great too that little character details that we've come to love are reintroduced, such as Jonathan's love affair with white wine, his penchant for thoughtfully saying "that's true," and George's daughter's declaration of wanting to do something "too."