Quick Take: Breaking Amish: Brave New World, "Nothing To Lose"
Another round of fake reality?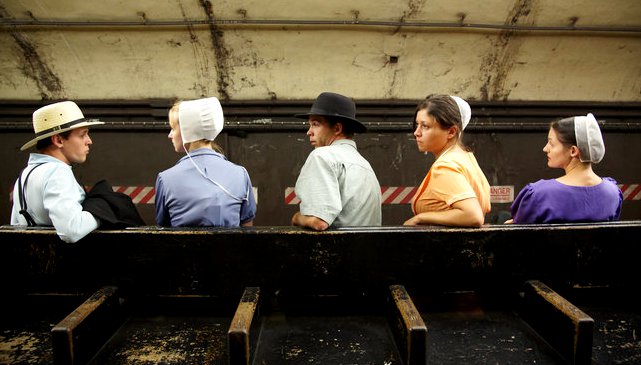 Review: Breaking Amish: Brave New World, "Nothing To Lose"
(S0101) The show that had many people wondering whether or not it was staged or real is back for another go round on TLC. This time the four ex-Amish and one ex-Mennonite are completely immersed in the English world and some of them are realizing that the grass isn't always greener on the other side.
After bouncing around a few states Jeremiah now calls Florida home with his girlfriend Kim after following a lead for construction work - by the end of the episode though they are no longer together. Kate has remained in New York and is living her dream of becoming a model. Sabrina is still a bit of a mess and is living in the basement of a church with a gun at her side while her boyfriend is in jail for assaulting someone. Abe and Rebecca are still married and living in an apartment in Punxsutawney, Pennsylvania not far from his Amish family.
Abe's sister does try to make her way into their inner circle but Rebecca immediately squashes her plans. Her overreaction leads her to have a panic attack that renders her unable to breathe. Although she is smoking a cigarette while she is going through this attack so I don't know how legit that whole scene really was. I guess Rebecca is more comfortable being her true self after her skeletons were exposed. She actually admitted on camera that she does have a daughter that lives with her and Abe. Although I doubt she will be making her television debut anytime soon.
So, what brings these five back together? Jeremiah comes up with the brilliant idea that they should all get together in Florida. He initially invites Abe & Rebecca down after Abe tells him that he and Rebecca have essentially been excommunicated from the Amish community and he is unable to find work. Didn't he know that that was what was going to happen to them once they decided to leave the community? What made him think that his situation would be any different and he would be the exception to the rule? One thing I found confusing was Abe's mother so willing to be on camera this season saying how her son missed being part of the Amish community. If she was such a stickler for playing by the Amish rules shouldn't she by shying away from the cameras?
This season will document how these brave souls will be road-tripping down to Florida in a rented RV making stops along the way... Including in our nation's capital where they will have a few comments to make about the famous monuments in reference to their previous Amish lifestyle. Like they say, you can take the boy out of the city but you can't take the city out of the boy.
While I still question the legitimacy of the reality of this show it does offer up an entertaining hour of television nonetheless.