Quick Take: Breaking Bad, "I See You"
"I hide in plain sight, just like you." – Gus to Walt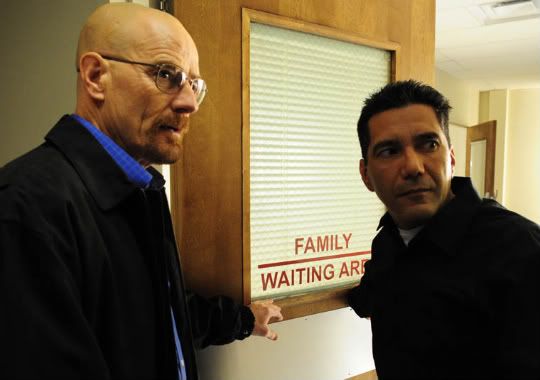 Review: Breaking Bad, "I See You"
(S0308) When I saw that the name of this episode is "I See You" I was reminded of the dark and clever play on that phrase in the song "What's Beef?" by Notorious B.I.G.
What's beef? Beef is when you need two gats to go to sleep
Beef is when your moms ain't safe up in the streets
Beef is when I see you
Guaranteed to be in ICU, one more time
Certainly, there's plenty of beefs to feed an (TV geek) army on Breaking Bad, and this week we visit the hospital and ICU quite a bit. But really it's most noteworthy to point out that after the immense and unrelenting tension of recent weeks – and of the entire season really – this was an episode to reset some emotional barometers, for the repercussions of Hank's (Dean Norris) heroic standoff against the cousins to play out, to see the consequences of Walt's (Bryan Cranston) breaking bad further take hold, and perhaps most of all to recognize Gus Frings (Giancarlo Esposito) as the true criminal mastermind on either side of the border.
We learn that Gus is playing a dangerous and high stakes game, and one that he just might get away with. Mexican cartel boss Juan did not know (though suspects) that Gus gave the go ahead to the cousins to go after the "DEA agent." And now we can safely assume what we already figured: Gus or one of his men was the one who tipped off Hank about the "one minute" to fend off the attacking ax-wielding cousins.
When Walt races to the hospital after finding out about Hank (via Jesse!) we learn that his family hasn't put the puzzle pieces together to connect Walt to Hank's life-threatening condition… yet. It's so easy to forget, with Walt's outpouring of concern, that he is chiefly responsible for placing Hank in the bulls eye of mortal danger.
Marie (Betsey Brandt) ends up turning on Gomie (Steven Michael Quezada) and the DEA. "Where were you… Texas," she says. She then says to Walt, "It's you… Walt," with regard to their incorrectly thinking Jesse (Aaron Paul) sold Walt weed during his cancer treatment days and that being the connect. This is the closest anyone from the family has come yet to placing Walt at the center of everyone's troubles. So close and yet so far. And then Skyler and Marie and Walt end up in an awkward hospital group hug. When Skyler (Anna Gunn) surprisingly says, "Don't blame Walt," I thought: wow.
Walt's little story to Betsy, Skyler, and Walt Jr. in the hospital cafeteria about being scared during his lobectomy takes a wrong/weird turn, doesn't it? I think it's because the story is told to serve Walt, not Marie or his family. Walt is trying to desperately hold onto the part of himself who was a normal family man, who could be counted upon to comfort those around him, to be the "great dad" who Walt Jr. tragically still professes and believes him to be. "Why can't I just spend a few extra minutes with my family?" he recalls thinking while breezing through traffic to get to the hospital. Like many pull quotes from Breaking Bad, this one speaks volumes.
Later, Gomie takes Walt to see the surviving cousin in the hospital! "Your tax dollars at work," another DEA agent says, lamenting the fact that they have to heal the assassin from Mexico. The cousin ends up recognizing Walt, becoming just one of several I See You moments, and gets out of his hospital bed. His legs are amputated (again, kudos to Breaking Bad for its sense of realism… the guy got smashed up by a car and it would be all too typical if he simply had a few cuts and bruises), and drags his bleeding stumps grotesquely across the linoleum to complete his mission, robot programmed and locked in, to get Heisenberg. He's subdued easily by orderlies, but this finally clues Walt into the fact that the attempted hit was at the very least tied to his own actions and involvement with Tuco (Raymond Cruz).
While we get subtle insights into Walt's though process and the way he compartmentalizes grief, guilt, and pain, we learned a lor more about the mysterious POLLOS man Gus. Walt/Heisenberg's predicament provided Gus with an opportunity, one that he's taking full and extreme advantage of. And amongst many things, he knows that Walt is nowhere near his match nor the "professional" that Walt gushed about in their early meetings. Gus now knows that Walt is a liar, related to a DEA agent, and somewhat unreliable. When Gus presses Walt on the meth cooking quota (400 pounds of blue crystal meth) and then closes with "I have your word on that?" I thought: Gus seems like the kind of guy you don't want to be jerking around.
And as it turns out, Gus is more resourceful than the Mexican cartel ever believed. This episode could be called THE CHICKEN MAN STRIKES BACK. Gus essentially positioned the cousins to take on Hank and not Walt, knowing that Hank had the guts and training to at least competently confront the two psycho assassins… at least with a little warning. He then was able to then effectively murder the second cousin (amidst a sea of feds!) while already crippled in the hospital, and meanwhile positioned the American law enforcement to go ballistic when one of their own was gunned down in broad daylight, effectively clearing Gus' chief rival (Juan) south of the border off the map.
The final moments play beautifully off the tension and surprises that have marked the end of recent episodes. Instead, we see Skyler, Marie, and Walt going into see Hank for the first time. We're expecting something shocking, something horrid. Instead, we see a horribly pained and remorseful-looking Walt, and we fade to black on the image of Hank's hand.
The possibilities are wonderfully open now as head into the final stretch. I can imagine that the major points of conflict will come next either from the Walt-Jesse partnership unable to come up with Gus' meth quota or from Walt's family starting to connect some dots. Or perhaps Walt seeing Hank shook him up enough to consider something radical?
More thoughts on "I See you":
"Roll me further, bitch." – Jesse. Nice to see that Jesse hasn't lost his attitude nor his trademark expletive.
"We have different rhythms, Gale." – Walt to Gale, explaining how the "simpatico" partnership has to break up. Intriguing to see Walt having to lie through his teeth on his home turf of the lab. Talks about jazz and classical… and then broken-faced punk Jesse waltzes in. "This is my replacement?"says Gale. "This makes no sense." And of course he's right on the surface.
"Reverend, so nice of you to call… again." Walt, in a sea full of law enforcement officers.
"Yo, yo, yo! Jesse Pinkman is in the house!" – Jesse Pinkman
"One had an ax. The cartels tend to be… dramatic." – ASAC Merkert (Michael Shamus Wiles)
"All's I'm saying is that we have a schedule." – Jesse to Walt, taunting Walt over the phone. And Skyler, standing nearby, knows Walt is lying his ass off.
"Why isn't there anything cooking?" I thought uh oh when I heard that.
Walt Jr.'s (RJ Mitte) such a good kid, isn't he? It's going to be such a gut punch if but more likely when he begins to find out the real deal with his pops.
Walt is a fixer and a builder and a creator deep down. Thought of this while watching him place a folded piece of a magazine page under the wobbly table in the hospital waiting area. It only compounds the tragedy of his break bad, doesn't it?
"Guys, did you hear that? Mr. Fring is offering a $10,000 reward for any information about the case." – Skyler
"I hide in plain sight, just like you." – Gus to Walt
Video: Breaking Bad, "I See You"
Head inside this episode, from AMC:
Recap: Breaking Bad, "I See You"
Jesse, still weak and bruised, is wheeled out of the hospital by an orderly. As he waits outside for his ride, an ambulance approaches. Curious, Jesse rolls his wheelchair closer to find paramedics working frantically on an unconscious Hank. Skinny Pete arrives and asks how Jesse is doing. Jesse smiles. "Actually, I'm great," he says. More at AMC.
From Around the Web: Breaking Bad, "I See You"
frothy girlz: For the record, my favorite line tonight was from Jesse, "You tell your douchebag brother-in-law to head towards the light." Loved it.
A.V. Club: I felt like Walter, Jesse, and Gus were haunting the edges of a self-consciously ordinary drama where wives get hysterical, sisters restrain them, cops contemplate vigilante justice, and doctors relent when someone challenges their bureaucratic definitions of "immediate family."