Quick Take: Breaking Bad, "Kafkaesque"
"I know I owe you my life. And more than that, I respect the strategy." – Walt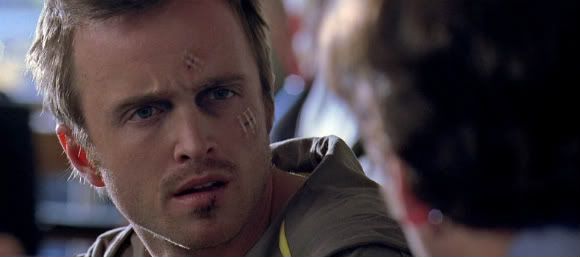 Review: Breaking Bad, "Kafkaesque"
So much to say about this episode, as is always the case in Breaking Bad. Did not have time to do a full fledged review so I hope that this bullet point excursion does it some justice.
The Los Pollos Hermanos commercial that opens the episode brought a huge smile to my face. It was just close enough to reality, with a wonderfully dark Breaking Bad tongue in cheek. And transition from the last shot of the commercial to Walt and partner once again Jesse cooking up a huge vat of blue crystal meth.
We get insight into the amazingly high tech efficiency that is the Los Pollos Hermanos drug distribution operation, replete with hiding the meth in buckets of franchise ingredients, date stamped (with some kind of GUID?) that can only be read with blue light, and transported using company vans.
"What's more important than money?" Jesse (Aaron Paul) yells after a leaving Walt. Jesse feels the $3 million the two are splitting is nothing with comparison to the $96 million he estimates is going to be made by Gus (Giancarlo Esposito) and his Pollos cartel on the streets. I can't help but think that now that Jesse has nothing else, that everything else in his life has been stripped away, the pure pursuit of money for its own sake has become his one true religion in a sense. Walt (Bryan Cranston) for his own part seems content to take the money and run, but neither are capable of thinking about what happens once their three-month contract gig is up.
Walt overhears potentially explosive information while visiting a badly injured but seemingly recovering Hank in the hospital. Gomie (Steven Michael Quezada) reveals that Hank (Dean Norris) was "right," that the crystal blue meth is showing up all over the southwest. As we've seen before, Walt and Jesse overreacting to tipoffs and information can do more harm than good.
"Are we safe?" – Skyler to Walt. Smart question, lady. "Are you safe?" Love that the set up and shot in the parking lot is so similar to that which Hank fought for his life in "One Minute."
Jesse tells his NA group that he works at a corporate Laundromat full of "dead eye douchebags."
"When do we get him walking again?" – Marie (Betsey Brandt). Looks like Hank is in for a long, tough road. And dealing with gnawing bureaucracy of the health care system. Going outside of the network "could cost hundreds of thousands of dollars." Anyone know someone close to the family with access to that kind of cash? And so the wheel turns.
Saul Goodman (Bob Odenkirk) hands over a nail salon to Jesse, the best money laundering joint money can buy. Goodman explains the basics of money laundering as only Bob Odenkirk can: placement, layering, and integration. Jesse ain't having it. And have to love that Goodman is offering his "typical 17%."
Walt visits Gus, and he seems more scared than we've seen in a long time. He confronts Gus about Hank's attack and the mysterious phone call. "Because of this intervention, I am alive." Walt, no dummy except when it comes to how his actions affect others, pretty much susses out exactly how Gus could have played both sides against each other for enormous profit.
"I know I owe you my life. And more than that, I respect the strategy." That right there might cut to the naked and twisted heart of who Walter White has become more than anything else he's said. "In your position, I would have done the same."
With the specter of imminent assassination from the Mexican cartel out of the way, Gus offers Walt $15 million annually to cook meth for him. And the implication could be read that as long as Walt works for Gus, his family will be secure in terms of money and in terms of not getting axed by any would be comers.
Walt nearly kills himself by pushing his economy car over 90 mph on the highway and closes his eyes, drifts over the center line, and almost collides with a tractor trailer. Walt starting to feel trapped into his new life much?
Jesse opens up in NA, relating how his wood shop teacher in high school, Mr. Pike, inspired him. He talks about how if he had the choice, he'd work with his hands. It's a glimpse of what a Jesse Pinkman that didn't break bad might have been, and it's heartbreaking. "You know, I didn't give the box to my mom. I traded it for an ounce of weed."
Ted (Christopher Cousins) shows up at Skyler's house while Marie is there. It doesn't go well. At the least Skyler realizes that she had the affair with Ted in reaction to her emotional turmoil in losing Walt in more ways than one. But is there more to it than that?
"What's the point of being an outlaw when you've got responsibilities?" Jesse reminisces with his crew about the good old days of cooking in the RV / mobile meth lab and dealing on the streets. Soon that emotion transitions to plans on going back into the game on the side… oh, that's not going to go so well, is it? Soon after, we see Jesse lying to Walt about the yield on a batch of crystal, and smiling.
Is the whole Jesse crew conning the NA group into buying crystal meth? That's just so wrong.
Skyler "goes there" for the first time… offers to pay Hank's bills, and explains that Walt has the money because of gambling winnings! Now that is a Kafkaesque revelation. When she explains Walt's rationale for his "changes" after his lung cancer diagnosis, she's precisely in tune with his original motivations for going into the drug trade.
"You know how Walt is. He's a problem solver." – Skyler
Skyler (Anna Gunn) covers Walt's entire criminal history under the umbrella of an illegal gambling operation.
"What can I say? I did very well." – Walt. Walt finally gets to take credit for his criminal mastermindery with his family!
In the final moments, it looks like Skyler could be on the verge of forgiving Walt, at least in part, and perhaps even the possibility of her reconciling with him. Instead, she tells him that she feels that Hank's condition is somehow related to him, and that she will not forget. Of course, she's right, and of course, she's tying herself ever closer in as a co-conspirator.
Is Skyler close to Carmela Soprano territory? Yeah, I think she is.
Video: Breaking Bad, "Kafkaesque"
Check out the AMC "inside" scoop:
Recap: Breaking Bad, "Kafkaesque"
A Los Pollos Hermanos commercial extols the chain's signature chicken. Back at the lab, Walt and Jesse hand off a batch of blue crystal meth, which ends up at Gus' chicken farm. Victor supervises workers as they submerge plastic bags of blue meth into specially-marked tubs of fry batter for shipment across the Southwest. More from AMC.
From Around the Web: Breaking Bad, "Kafkaesque"
Tim Goodman: This was an episode that did a wonderfully seamless job of showing Walt that he's really not in charge - that people are making decisions without him.
A.V. Club: And in a brilliantly sustained scene at the episode's conclusion, Walter becomes the protagonist in Skyler's new, fictional version of his life. As he listens to her weave her tale, he leans forward and his mouth drops open, entranced. He can't wait to find out who she's making him out to be.