Quick Take: Caged, "Episode 3"
"She's redheaded and she's got a mean streak." - Wes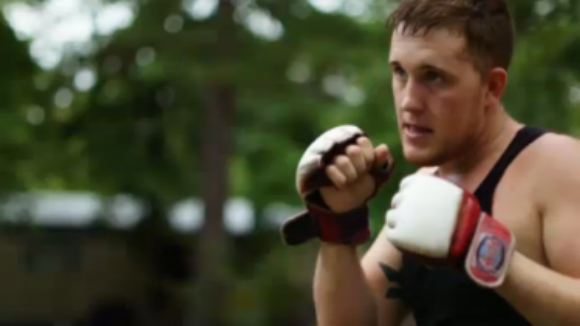 Review: Caged, "Episode 3"
(S0103) When I reviewed the premiere episode of MTV's MMA-based reality show Caged, I was extremely high on the show. I felt like the pilot did a good (great, even?) job of humanizing the characters while making the audience identify with them and root for them. I was surprised by the "emotional depth" Caged presented, especially given that it's an MTV reality show.
Since my initial review, two more episodes have aired. So I figured it was time to check back in on Caged and see if I would enjoy it as much as I did the first time around.
The short answer is: yes, I continue to like Caged and the characters featured on it. Matt (Danger) seems like a genuinely nice kid. Wes, while occasionally off-putting, is a funny, lovable lunkhead. Daniel I find a tad boring, but given his status as "King of Minden," it would be easy to assume he's a privileged jerk. Thankfully, for the most part he doesn't come off that way at all.
I do have some concerns with Caged going forward. As a short (maybe five episodes?) mini-series, I have no doubt the show would remain interesting throughout. But through three episodes, I have started to notice that the producers are beginning to recycle plots from prior episodes, which leads me to worry about the show's long-term prospects.
For example, last night rehashed multiple stories from the first two episodes: Red and Wes' on-again-off-again relationship and their struggles with parenting, Daniel's inability to emotionally move past the death of his high school sweetheart, the grueling process of "making weight" before the fight. It's not that I found any of these particular stories tedious. However, if the show can't find a couple of new angles to explore soon, tedium might set in.