Quick Take: Celebrity Apprentice, "Final Two Brew"
Is Bret Michaels the greatest of all the Celebrity Apprentice winners? You be the judge, America.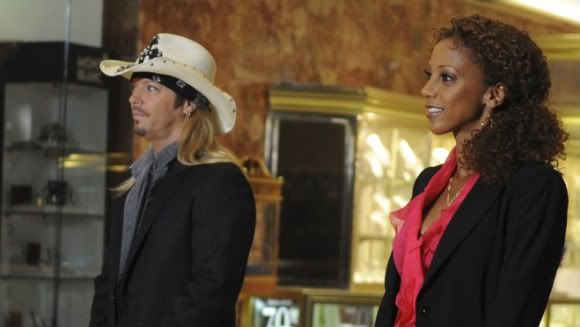 Review: Celebrity Apprentice, "Final Two Brew"
(S0311) Bret Michaels won this season's edition of Celebrity Apprentice. He had to win, and he deserved to win. In many ways, he's probably the most deserving of the three season's winners – with all apologies and respect to Piers Morgan and Joan Rivers – both because he wanted it more than anyone else (Morgan's terrifying gamesmanship aside) and literally fought through a life threatening condition to get to the finale.
Plus, let's face it: there's the fun factor versus the… well, I'll quote nice guy and celebrity chef Curtis Stone himself, who called teammate and eventual finalist Holly Robinson Peete "a little bit of a bitch." And that's a nice guy talking. Sure, Peete's attitude softened considerably after she cut down and cut through several of her rivals – including the sweet and eclectic (if sometimes grating) Cyndi Lauper – and even made nicey nice with Sharon Osbourne, but she showed a cruel and wonderfully bald-faced ego throughout the season which put her very high on my list of Most Likely to Hate Throughout Season (Celebrity Apprentice).
In contrast, Bret Michaels proved himself to be the reality star that he is in pouring his heart out in challenge after challenge, throwing himself into wacky tasks such as creating jingles for Air Conditioning and Heating services and building marketing theme tents for The Wizarding World of Harry Potter. And he genuinely appeared to have an easygoing and amiable spirit in infusing the "rocker factor" into his tasks and the show.
The task for the finale seemed to have less impact on the final outcome than ever before. Michaels was teamed up with Darryl Strawberry and Summer Sanders, and Peete with Curtis Stone and Maria Kanellis to create a new Snapple flavor and put on a presentation that included an original 30 second advertising spot. I was really surprised that there wasn't a large fund raising task associated with it, as I thought that was sort of the point of being a Celebrity Apprentice… but I digress in trying to dig into the meaning at the heart of the island, er, show (is my mind still on Lost? Uh, yes).
I had the sense that Donald Trump had a hard time holding a poker face on naming Michaels as the winner throughout the live portions (and do we really need the finale to be live? What does that really add?). My other main issue with the Apprentice finale is that we don't spend any time with the winner or other contestants getting reaction after the winner is announced. There's two hours of filler and clips and suspense, then announcement's made, balloons fall, and cut to black until the next season.
And next seasons, plural, I should say, as there are two new Apprentices coming up, one Celeb and one in the original down-and-dirty package. See you next seasons, kids!
Video: Celebrity Apprentice, "Final Two Brew"
Here's the finale in full, while available, from Hulu:
Review: Celebrity Apprentice, "Final Two Brew"
In the season finale, Donald Trump announces the next Celebrity Apprentice.
From Around the Web: Celebrity Apprentice, "Final Two Brew"
EW.com: Despite heavy competition from the series finale of Lost, last night's finale of The Celebrity Apprentice posted a 6 percent improvement in viewers over last year's season ender, and a 10 percent boost among adults 18-49. The telecast, in which Donald Trump named Bret Michaels this year's Celebrity Apprentice, came in No. 2 in its 9-11 p.m. timeslot among viewers behind Lost. It averaged 9.3 million viewers and a 3.4 rating/9 share among adults 18-49.