Reality shows love to promote upcoming episodes as the craziest/most intense/most compelling one to hit the airwaves ever.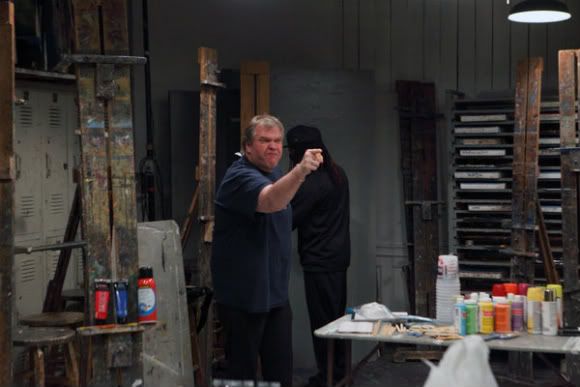 In the case of Meat Loaf's meltdown in front of Gary Busey and team on this week's Celebrity Apprentice, it's not entirely hyperbole. Jimmy Kimmel does a fine/funny job of setting up the incident and then parodying it by playing the soundtrack against an ancient Loony Tunes cartoon featuring the likes of Yosemite Sam (Meat) and Bugs Bunny (Busey):
(via reality blurred)
If you've been watching Celebrity Apprentice – and this season has been highly entertaining thus far – you'll know that there's a lot of background to how and why Meat Loaf blew up on Busey. While it's certainly never admirable nor professional to act as Meat did, Busey can be rather infuriating and perplexing at times. The stress of a show like Celebrity Apprentice, the lack of sleep, and putting up with a guy who lives in his own orbit and spits out bizarre acronyms and parables instead of working on a task under deadline can be taxing, to say the least.
I also must note that I've been impressed with Meat Loaf's passion and enthusiasm for his efforts. In addition, he later laid a heartfelt apology on Busey that was rather touching; it's obvious to me that Meat Loaf (and Busey) are not on the show to further their careers, at least not in the strictest mercenary sense. Additionally, the camaraderie, creativity, and work ethic of a foursome of musicians on the men's side – Meat Loaf, Mark McGrath, Lil Jon, and John Rich – has been reason enough for me to tune in each week.
So that's all to say that Meat's meltdown aside, it's nice to have… wait for it, a positive reason to tune into a competition-based reality show each week.