Quick Take: Celebrity Apprentice, "Suite Deal"
"Holly, she's a control freak and a two-faced beeyatch." – Cyndi Lauper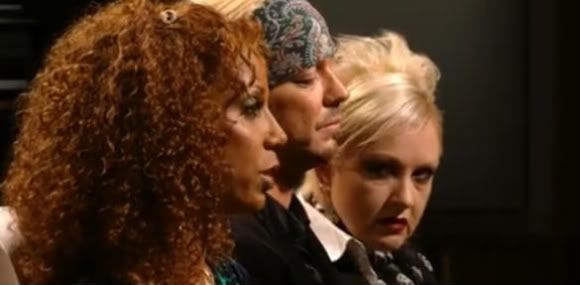 Review: Celebrity Apprentice, "Suite Deal"
(S0309) As I've mentioned before, it's fun to get to the part of the celebrity apprentice season where, to paraphrase another reality show institution, celebs stop being polite and get to the real talk. It's particularly effective when the desire to earn money for charity goes out to the window, as does ambition to advance in the competition for screen time and exposure, and simple no holds barred ego is exposed.
And guess who has managed to keep a reality institution going – and let's remember that many have come and gone since the original Bill Rancic and Kwame Jackson-era Apprentice – by exploiting egos and goading back stabbing in the boardroom for the fun and entertainment of the television sky masses?
Ah, that would be the good Dr. Evil Trump.
More than anything though, I was so happy to see a conclusion to the longstanding Holly Robinson Peete-Cyndi Lauper hatefest conclude. While I had been staunchly anti-Peete in recent weeks, Lauper has been deeply annoying at many points and indeed did show a diva-ish and petulant side this week that made it easy to watch her get booted right before hearing the classic, "Thank you.. get out, thank you" from Donald Trump.
The team's were switch up again to kick off the episode, which seemed to be done to place celebrity chef Curtis Stone with the two that professed an unnatural hatred of him last week, Sharon Osbourne and Maria Kanellis. Meanwhile, Bret Michaels (whose "real time" health seems to be improving weekly) was moved over with Holly Robinson Peete and Cyndi Lauper. While Osbourne and Kanellis seemed to give up their hatred for the Aussie easily and collaborated well, Bret Michaels had to take off for a gig, leaving Peete and Lauper, who have never gotten along well, to a fairly significant disadvantage.
The task involved designing a corporate apartment under an extremely tight deadline under the direction of Lee Curtis from Bridge Street and Richard LeFrak, CEO of The LeFrak Organization. These kinds of tasks are always good as they require lots of creativity and a huge outpouring of energy and delegation on behalf of the project managers. I honestly had a hard time figuring out who would win in advance (no designer in this reviewer, thank you!), though I could tell straight away that Rock Solid's "celebrity room" was fairly weak while Tenacity's bedroom in lime green was super weak. Rock Solid won handily, as it turned out, which made me happy as that would secure the departure of either Peete or Lauper (I figured Michaels was relatively safe this week and turned out I was right).
While I don't like Peete's attitude much at all, I agree that she should have been spared in favor of Lauper this week. That said, I think Lauper missed an effective line of defense with regard to the "celebrity room" that she designed, which all agreed was the best part of Tenacity's effort. Peete made much of the fact that she had to manage the design of five rooms with Michaels with Lauper only did the one. However, as project manager she could have been called to task for not delegating appropriately.
However, I think anyone watching this season would know that Trump and co. want to see Peete advance because of her strong personality, in conjunction with her demonstrated fund raising prowess. Next week's preview show's Trump firing someone at the beginning before the standard interview round goes down. I'd say that Osbourne, Peete, and Michaels are near locks for three of the four slots at this point, leaving Stone and Kanellis vulnerable. In a pinch I say Kanellis goes home as enter the Celeb Apprentice end run.
More thoughts on this week's celeb apprentice:
"Nobody stands up for the gays." – Cyndi Lauper
"Holly, she's a control freak and a two-faced beeyatch." – Cyndi Lauper. Hard to agree with that.
"I'm a big mouth old bat." – Sharon Osbourne
"It's fabulous to be Sharon Osbourne." – Sharon Osbourne
"What does this have to do with gays?" – Donald Trump
"Actually, I fell in love with Cyndi on this task." – Holly Robinson Peete… right as the claws were coming out in the boardroom
"What a beeyatch." – Cyndi Lauper on Holly Robinson Peete
Video: Celebrity Apprentice, "Suite Deal"
Check out how suite it is in full, from Hulu, while available:
Recap: Celebrity Apprentice, "Suite Deal"
In the most difficult task yet, the teams must renovate a two-bedroom corporate suite - overnight.
From Around the Web: Celebrity Apprentice, "Suite Deal"
CBS News: Caught in the middle of the cat fight was rocker Bret Michaels, who threw Lauper under threw bus for diva-like behavior that wasn't too different from what Michaels himself exhibited earlier in the season.
Lifeline Live: Cyndi Lauper was fired last night on The Celebrity Apprentice, but we haven't seen the last of her on reality television. She's "definitely" doing a show focused on her life, she told Lifeline Live in a press call today. Filming hasn't started, but she has signed a contract with Mark Burnett, she said.
The Baltimore Sun: In the boardroom Trump, as usual, confuses civility with passion. He's disappointed that Bret isn't swearing and shouting as much as Cyndi and Holly. But, he fires Cyndi. (That plop you hear? That was the last of the ratings.)